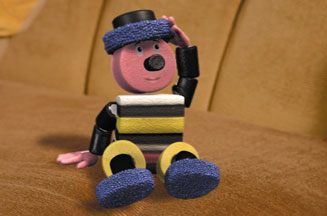 Bertie, described by the brand as Sheffield's oldest bachelor at 80, has found himself a mysterious lady friend made of sweets.
In an effort to update the Liquorice Allsorts sweet brand and boost flagging sales, Cadbury Trebor Bassett is launching new character Betty Bassett on red packs of liquorice. The new packs replace Bassets Fruit Allsorts as Cadbury focuses on reversing sales declines for Bassett's Allsorts with a push for the liquorice products.
The YouTube viral features celebrities Danielle Lloyd, Bianca Gascoigne, Nikki from Big Brother and Christine Hamilton speculating on who Betty might be.
The YouTube page says Bertie's 'celebrity fans have been more suspicious of the new lady in his life and have started a campaign to find out more'.
The campaign drives people to Facebook to encourage them to sign up as friends and add to the debate.
Branded Facebook pages for food and drink brands have been attracting millions of fans. Coca-Cola, Nutella and Kinder Surprise have stacked up more than a million fans each on Facebook, with new research by search agency Tamar suggesting that brands should use the social network to set up fan pages to promote their brand values cost-effectively.
In 2008, Coca-Cola racked up 1,779,574 Facebook fans, while Nutella had 1,583,034 fans.
Cadbury has been ramping up its digital activity for various brands including Dairy Milk and Creme Egg.
Using the Creme egg 'Here today, goo tomorrow' strapline, Cadbury is using Facebook and Bebo pages and competitions to support above-the-line ads.
CMW has sent out a limited run of Creme Egg direct mail packs to a selection of respondents from Cadbury's 2008 digital campaign and the new site features a countdown to Easter - 'the end of crème Egg season' as well as Goo games called splat the egg and mobile game eggs and ladders.