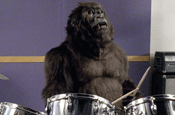 But one juror thinks the UK ad will pip the US spot to the post.

He said: "It's a case of a new and innovative, beautifully shot commercial versus a classic, wonderfully copywritten piece of advertising.

"But 'gorilla' will get it because it's more of the zeitgeist."

Meanwhile, the Titanium jury's winner may come from an unexpected source.

One juror said: "It's a little early to be making predictions, but I wouldn't be surprised if an ad that a lot of people haven't seen before takes it."