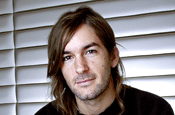 The second ad in its "Glass and a Half Full Productions" campaign will break on TV on 28 March. It sees the brand
retain the same strategy of projecting "joy" through an elaborate visual execution with little direct connection
to the product.
The spot was shot in Mexico three weeks ago, and was written and directed by Juan Cabral and produced by Blink.
The campaign is understood to have a strong digital and social networking element. Interactive support has been provided by the Swedish agency North Kingdom.
"Gorilla", which broke last September, was one of the iconic ads of 2007. While it was on air, weekly sales of Dairy Milk increased by 9 per cent.