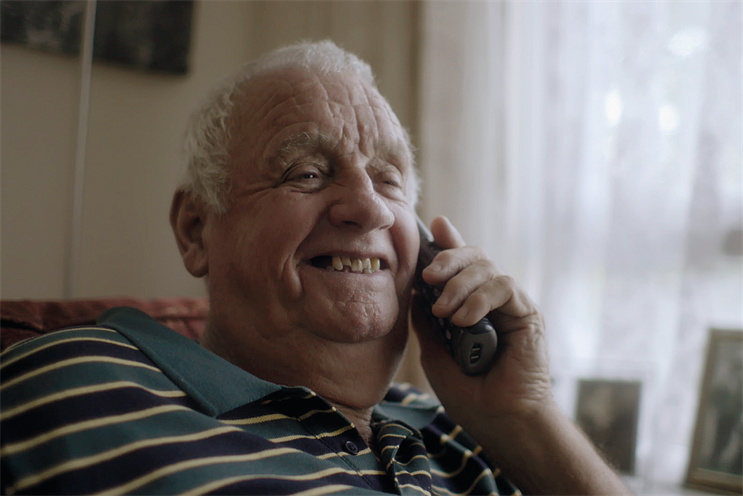 Never has the ability to help people feel less lonely been so important than right now, especially older members of society. Before the coronavirus and the resulting lockdown, shielding and social distancing measures, old-age loneliness affected around 1.4 million people: of that number, each week, 225,000 often went a whole week without speaking to anyone.
Cadbury wanted to shine a light on this ongoing crisis of loneliness. To help achieve this, the brand partnered with Age UK, the leading charity dedicated to supporting older people. The idea was simple: Cadbury donated the words from its Dairy Milk bars, with 30p from every bar sold going to support Age UK.
Appealing to Cadbury's mainstream audience of adults aged between 18 and 55, the drastic change to the iconic purple Dairy Milk bar wrappers was not only designed to capture the nation's attention but also encourage people all over the country to 'Donate your words' by committing to engage with and speak to older members of the community.
'There's a glass and a half in everyone'
Prompting the public to get involved and then act upon their commitment was a key challenge. To effectively reach and resonate with Cadbury's target audience, Facebook and creative agency VCCP worked together to design and create a 'Donate your words' Messenger bot that gave people practical tips of how to donate their words in the real world, such as checking in on an older neighbour, calling an elderly relative for a chat or to get involved with Age UK as a volunteer. The friendly conversational bot also encouraged people to share their commitment with friends in a seamless way, motivating them to follow it through and inspiring even more people to get involved, proving that in generosity terms, 'There's a glass and a half in everyone'.
Now you're talking
The 'Donate your words' campaign resulted in an overwhelmingly positive response from the target audience. Lead media agency Carat planned and implemented the campaign's media strategy, using Facebook auction buys optimising towards traffic, driving users to the Messenger bot. This achieved 131k link clicks, driving 63k messaging connections at a 43% more cost-efficient cost per link click, proving users were really engaged with the activity.
Not only that, but 4.1 million unique users were reached, at a 19% more cost-effective cost per million. In addition, 3.3m video views of the Facebook content at a view-through rate of 27.77% was achieved, well exceeding planned predictions (9% VTR).
As good as your words
Cadbury effectively turned its Dairy Milk bar into a mini-billboard, asking people to help tackle the issue of loneliness. Using Facebook's Messenger bot to deliver this message was the perfect creative match – as a channel completely focused on dialogue, it was the ideal way to encourage people to continue the conversation with older members of society and make a real difference to their lives.
Winning stats
• 43,747 total 'Donate Your Words' pledges
• 75,528 users to date
• 16,275 total shared to date
• 4.175m reach
• 9.3pt ad recall

Claudia Miceli, senior brand manager, Cadbury
"The 'Donate your words' campaign, which supported Age UK, is something we're incredibly proud of. We donated the words from our Cadbury Dairy Milk bars to help alleviate the issue of loneliness among older people and we were convinced that the nation would want to help too. Our Facebook activity really did demonstrate our belief that 'There's a glass and a half in everyone' – we were blown away by how engaged everyone was with our content and also by the high levels of traffic through to our Messenger bot – proving they really did want to make a difference to the lives of lonely older people."
Jonny Parker & Chris Birch, creative directors, VCCP

"Loneliness among old people is a harrowing enough problem. But we couldn't assume people cared enough to act. The Facebook campaign, featuring the wonderful Theresa and Paul, prompted people to not only care, but also actively 'donate their words' right there and then. Aided and abetted by the gloriously simple, and chatty, Facebook Messenger bot."
Lauren Kenny, client director, Carat
"Working with Cadbury and Age UK, we brought much deserved attention to an endemic issue in our society. Older generational loneliness can often be forgotten, but we're pleased that through this Facebook campaign we not only shone a light on this societal issue but also encouraged people to better understand how they can play their part via the Facebook Messenger Chatbot."
Andrew Hunter, corporate partnerships manager, Age UK
"Loneliness is a big issue affecting hundreds of thousands of older people in the UK. Working with Cadbury Dairy Milk on this campaign has really helped to put this issue into the spotlight and encourage everybody to do their bit to help tackle it. We loved the campaign's social content because it inspired people to reach out to the older people in their lives and communities. That it drove people to a Messenger bot, which gave people practical advice on how to donate their words, was a smart way of driving real-world action."
Suzanne Bidlake, commercial editor, Campaign Content Labs
"Isolation doesn't necessarily mean we're lonely. But it can prevent us from going out and shopping for or saying hello (at a distance) to the many elderly for whom loneliness is a constant, pressing and painful issue. Cadbury's insightful campaign and clever use of the Facebook Messenger bot comes along and reminds us of what we can do to help, just with words, however shielded our household has to be. Packing as much comfort in that brand message as in the chocolate itself."