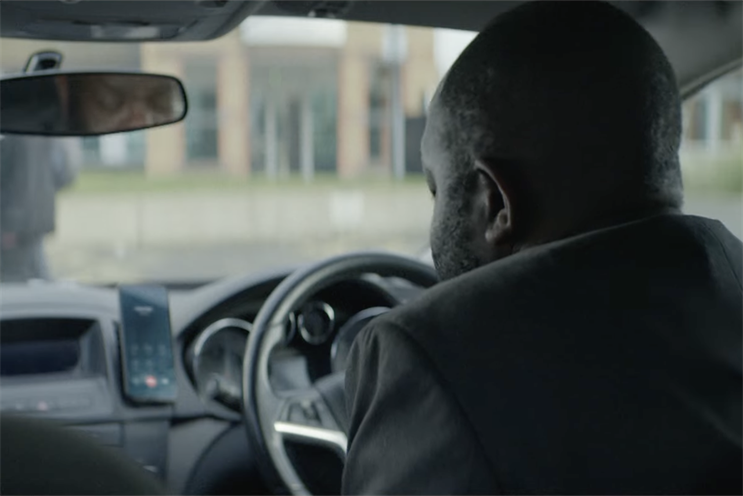 A simple, character-based portrayal of generosity that delivers an unexpectedly powerful and moving punch is the winner of the latest Thinkbox award for TV creativity.
In Cadbury's "Speakerphone" by VCCP, we see a dad sitting in his car after starting a new job and taking a call from his son who is ringing to see how the day has gone. As the dad admits to feeling worried, his son is reassuring and kind – underlined by the Cadbury Dairy Milk bar he has left for his dad in the glove box.
The commercial is not just the latest in Cadbury's Dairy Milk's six-and-a-half-year-old "There's a glass and a half in everyone" strategy, it's also a perfect demonstration of it.
"Our generosity positioning — and the comms stemming from it — has been shown by research to build people's love of the taste of Cadbury whilst also increasing their affinity with the brand," says Gemma Flanigan, marketing director, Cadbury brand equity UK&I, at Mondelez International.
"There's a glass and a half in everyone" is a statement about the nation by a brand that is proudly of the nation, she explains. As such, both the campaign strategy and media strategy are focused on "the-UK-at-large".
In terms of demonstration and reach, Flanigan adds: "TV is perfect for that."
For this particular commercial, the brief was largely one of continuity. "We wanted to tell another story of everyday people using Cadbury Dairy Milk to demonstrate generosity to each other," she says.
"As with other executions, it was about finding a scenario where the gifting of chocolate may seem small on a material level but has a disproportionately big meaning."
One aspect of the brief did differ, however.
The intention was for a story around older families rather than the younger children the campaign had featured before. And this led the creative team to start considering ideas relating to the role of Cadbury when people are outside their emotional comfort zone.
"We started writing (and writing and writing) until we hit on moments that felt authentic and poignant," VCCP creative director Simon Connor recalls.
"This script always stood out to us: one actor, one set up, an awkward conversation between a father and a grown-up son that we never see. It seemed like we hadn't seen anything like that before."
Choice of director and casting were key.
"When we spoke to Steve (Rogers, the director), he just got it. He talked to us about the performance and casting and how the camera would observe the scenes – we wouldn't feel the acting, the direction, or the editing. It would feel like we were there. It would all be in real time," Connor continues.
"Getting people to feel the emotion of the story, with no music or devices or cheap tricks, would be hard but worth it. He said it was like the Director Olympics, and we all loved that."
To find the strongest talent, multiple casting sessions were run, tapes poured over closely, and combinations of father and son tested until the final pair was selected.
Originally written in 2021, the script was shot in 2022, then finished six months after that. A period of significant world change, from pandemic to cost of living crisis, led to a particular tweak in the final version.
At first, the idea was for the dad to be going for a promotion. In post-production, however, this was changed to him feeling nervous about the first day in a brand-new job, Connor reveals. "It worked better."
The finished commercial launched in early June 2023 as part of a campaign across social, digital and radio – further evidence of the campaign's for-everyone intent, says Flanigan.
"Tracking results so far have been really strong – in terms of cut-through, and diagnostics and the resulting impact on the brand.
"What's more," she adds, "we've heard some very nice stories about how the ad touches a chord with people – particularly in its sensitive depiction of imposter syndrome and also for showing the shifting dynamic of older families."
For Flanigan, the pared-back nature of the ad, which accentuates the dialogue and interaction between the characters, was a stand-out achievement. "It's a style you don't normally see, so it lands with real impact in an ad break," she believes.
For Connor, meanwhile, the close teamwork that went into making the ad is a real source of pride.
"(Getting a great idea from script to screen) is like trying to do a cross-country egg and spoon race – full of ups and downs and obstacles and things that can trip you up, at speed. It's almost impossible," he observes, referencing TV show Seinfeld whose production team calls getting an idea from script to film "running with the egg".
In this case, agency, client, and production partners all helped the delicate egg on its journey by all pulling the same way.
Second in the May/June Thinkboxes was "We give up" by BBH for Burger King. "Five get their first" by Adam & Eve/DDB for Great Western Railway was third. Also shortlisted were "#McNuggetWorthy?" by Leo Burnett for McDonald's and "Escape the catalogue" by BBH for Wayfair.
WINNING AD
Agency: VCCP
Creative team: Chris Birch, executive creative director; Jonathan Parker, executive creative director; Simon Connor, creative; Steve Cross, creative
Client: Gemma Flanigan, marketing director, Cadbury brand equity UK&I, Mondelez International
Production company: Somesuch & Co
Director: Steve Rogers
The Thinkboxes, in association with Campaign, are the only bi-monthly awards that celebrate the UK's world-beating TV ad creativity, in all its forms. They are judged by the Thinkbox Academy – advertising and marketing luminaries who have been involved in award-winning creative work for TV.
Want to see more great work? Head to the Thinkboxes hub
Thinkbox is the marketing body for commercial TV in the UK, in all its forms. Its shareholders are Channel 4, ITV, Sky Media and UKTV. Thinkbox works with the marketing community with a single ambition: to help advertisers get the best out of today's TV.