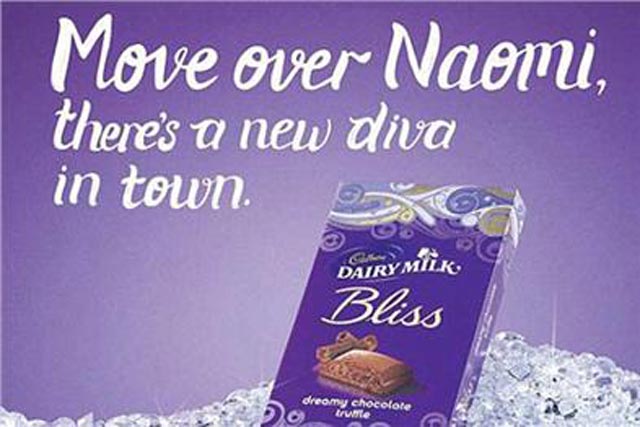 The apology has been posted on Cadbury.co.uk website and said Cadbury is "sincerely sorry" for any offence its press ad – which mocked Campbell's reputation as a diva – has caused.
The statement said that Campbell's solicitors have accepted the apology.
It had been rumoured that Campbell was considering suing Cadbury over the ad.
The apology said "Cadbury understands that our latest advertising campaign for Cadbury Dairy Milk Bliss caused upset to Naomi Campbell and her family. Cadbury takes its responsibility to consumers very seriously indeed and we would never deliberately produce any marketing material we felt might cause offence to any section of society.
"It was not our intention that this campaign should offend Naomi, her family or anybody else and we are sincerely sorry that it has done so. We can confirm that the advertisement is no longer in circulation and we will not be using it in future marketing for Cadbury Dairy Milk Bliss. We have been in discussions with Naomi's solicitors and can confirm that they have accepted our apology on her behalf as a conclusion to this issue."
Cadbury had already issued an apology to Campbell, but by publishing it on its website, it is hoping to draw the matter to a close.
Last week, Cadbury pulled the press ad created by Fallon after Campbell suggested it was openly attacking her.
The ad to promote the Cadbury's Bliss chocolate bar included the strapline: "Move over Naomi, there's a new diva in town".
Sources close to the campaign said the ad referenced Campbell because of her "diva"-style tantrums and behaviour, and not her race, which was never taken into consideration.
However, Campbell and equality group, Operation Black Vote, believe she was referenced in the chocolate ad because she is black and have called on Cadbury's to apologise and pull the ad.
Campbell is also reported to be considering suing Cadbury's over the ad campaign.