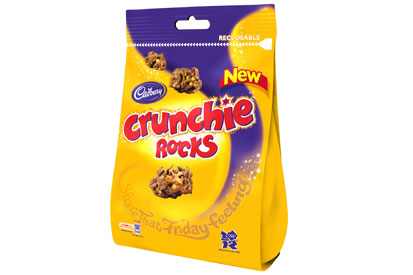 The bagged sweet, which is a combination of Cadbury's Clusters and its Crunchie bar, will launch next month in bags similar to Cadbury's Daily Milk Buttons.
The share bag initially comes in the one size, 145g and will be sold at £1.89.
Crunchie Rocks is expected to be one of Cadbury's biggest launches of the year and will be supported by a TV campaign, created by Fallon
The ad, which is being filmed this week, will hit TV screens in mid-May.
The launch follows the news disclosed in February this year that Kraft, the new US owner of Cadbury, is backing its flagship Milka chocolate brand with a major advertising campaign.
The big money spend behind Milka mean it is likely to rival sister product Cadbury's Dairy Milk. Rumbol cautions that the products will have to be positioned in a "complementary way" if they are to succeed.