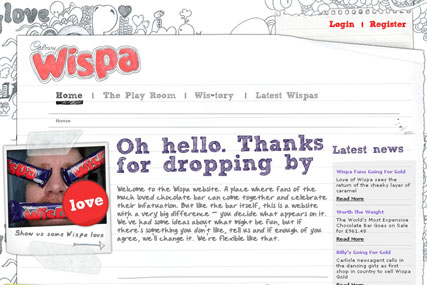 Designed by CMW and built by Clusta, the site allows users to create their own Wispa anthem through a specially-created soundboard, and also features a Room 101 section, where fans can submit an item to be disposed of to make way for the Wispa bar.

Users can browse a "Wis-tory", which tracks Wispa's return to the shelves in 2007 following a successful fan-led online campaign.

The site also asks fans to make suggestions for new features and applications that will be added to help improve the site, continuing the theme that the public "own" Wispa,

Ross Farquhar, the senior brand manager at Cadbury, said: "There are lots of ways for fans to get involved online and to make wispa.co.uk their own place. The plan is to develop and grow participation over time as we learn more and more about what the Wispa fan base values most."