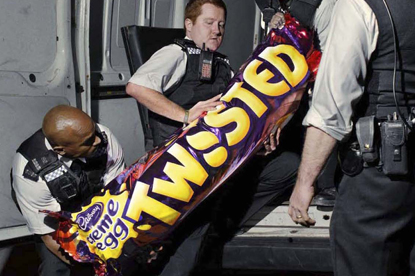 Cadbury's Intelligence Agency (CIA) has launched a bid to find ten super agents to track down the bars, which will be creating havoc around the country by gooing 16 high-profile targets, including famous UK landmarks.
The Super Agents will be selected on the strength of their application forms, which will be available to complete from 15th May at www.cremeeggtwisted.com.
The ten Super Agents will be sent clues online and will then have to track down at least two landmarks in real life and film themselves in the process. The agents must then upload their filmed exploits onto YouTube and generate as many hits as possible.
The Super Agent who films the most original and entertaining exploits, and who generates the most number of hits on YouTube will then be in with a chance of winning the £20,000 prize.

Additional agents can register now and will compete against each other to track down the Twisted bars online by solving clues in order to locate the GOO on Google maps.

Once found, the agents must click on the GOO and their discovery will be reported back to CIA HQ.
Agents who locate eight or more targets could win a trip for two to Morocco.