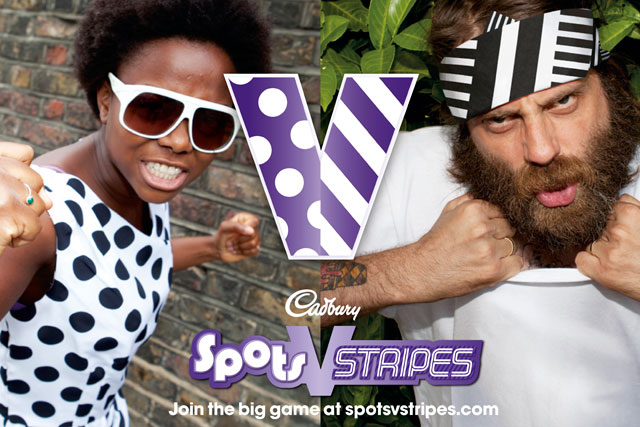 When it broadcasts in autumn 2011 'Minute to Win It' will offer contestants the chance to take part in up to 10 challenges involving "everyday items". The difficulty of the challenges and the amount of prize money on offer will increase as the programme continues.
The ITV-Cadbury partnership will include ITV2 branding on 'Spots V Stripes' digital activity and events, the creation of a 'Minute to Win It' website at ITV.com, and a range of promotions across ITV's platforms.
The 'Minute to Win It' format will also roll out to 'Spots V Stripes' events which will reflect the theme of "play and everyday simplicity," according to a Cadbury spokesman.
Cadbury is using the 'Spots V Stripes' campaign to activate Cadbury's £2m-plus, tier-two sponsorship of the 2012 Olympic Games and Paralympic Games, and wants it to encourage people across the country to get involved in games.
The campaign has received a mixed response and, as we revealed in March, it has been criticised internally at Cadbury for failing to engage consumers.
Norman Brodie, general manager of Cadbury's London 2012 programme, said: "Cadbury 'Spots V Stripes' has re-energised the nation's playtime and this partnership with ITV is the latest chapter in the bold, ambitious campaign.
"'Minute to Win It' is a great show, which includes simple games everyone can take part in and will be the springboard to developing our partnership to new heights."
The partnership has been organised between Cadbury, ITV, the television producer Shine, Omnicom media agency PHD and Drum, the Omnicom branded content agency.
Hugh Cameron, chief strategy officer at PHD, said: "Many brands, media owners and agencies talk about the future model of partnerships and building ongoing platforms for brands. This new partnership is a great step towards making such partnerships a reality going forwards.
"Cadbury, PHD and Drum are combining the talents and reach of ITV and a great format from Shine to spread the spirit of play as part of Cadbury's 'Spots V Stripes' campaign."
ITV is currently undergoing a review of its commercial team in order to rebalance its teams to deliver "multiplatform ideas and opportunities", such as this deal with Cadbury, as well as trading airtime.
Fru Hazlitt, managing director, ITV commercial and online, said: "We have pledged to explore new ways of working with our clients and this is a great example of us enabling a key client to use all of the marketing power of ITV's platforms."