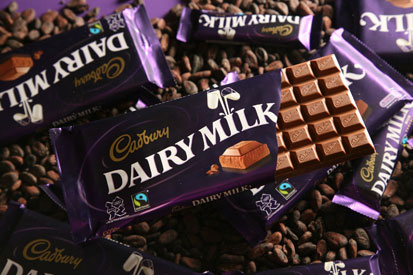 The confectionery company has signed a deal with charity Groundwork to run the multimillion-pound, Cadbury Spots V Stripes-themed events.
Universities, village fêtes and sports clubs will be targets for the sporting ambassadors to stage the mini-games, which Cadbury says will 'provide a rallying cry up to 2012'.
Speaking about Cadbury's Olympic sponsorship for the first time, Phil Rumbol, the brand's outgoing marketing director, said: 'This is all about the ethos of the Olympics. These games can be anything from a five-a-side football competition to people racing to Costa Coffee at work to see who gets the fastest time.'
Groundwork, which is based near Cadbury's Birmingham headquarters, focuses its activity on disadvantaged communities. It will now prove a crucial partner for Cadbury in its push to promote its association with London 2012.
Cadbury is to tap into the charity's network of contacts to recruit paid-for and volunteer ambassadors. It is thought that about a dozen of the ambassadors will be paid to work with their volunteer counterparts to set up sporting encounters across the country.
Cadbury, sole provider of ice creams and confectionery at London 2012, will hope the initiative appeases critics alarmed by its tie with the Games in the context of rising childhood obesity and diabetes.
Observers believe the tie-up with Groundwork will be positive, citing Cadbury's prior charity work and philanthropy via the Cadbury Foundation, which gives about £750,000 a year to socially deprived areas.
Nigel Currie, director of marketing and sponsorship consultancy Brand Rapport, said: 'The danger for Cadbury is that this type of activity is difficult to measure and you never really get the results. But Cadbury does have a history of making a success of this sort of thing.'
Currie pointed out that it is hard for Olympic sponsors to drum up new marketing ideas and warned that there remains the constant danger of ambush marketing.
Rumbol is leaving Cadbury after four years at the company. The 43-year-old was offered a job at new owner Kraft Foods' Zurich headquarters, but has declined the offer.