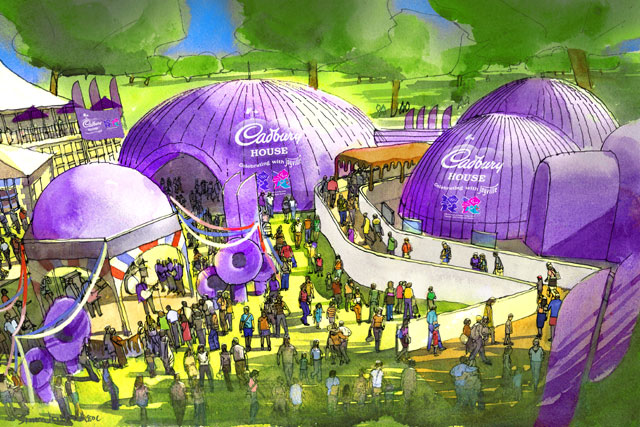 The Kraft-owned chocolate brand, which is a sponsor of both the London Olympics and Paralympics, has been highly active in its marketing activity around the Olympics.
Its initial above-the-line activity, its Spots and Stripes campaign, was criticised in some quarters for failing to engage customers.
However, Kraft claims its social media activity has been a success. It claims to have added 2.5 million fans and followers to its UK social media channels on Facebook, Twitter and Google+, which are dedicated to the Games content, since the start of the year.
The combined social media channels, which now have a reach of 7.5 million, experienced sharp growth over the 17 days of the Olympic Games.
The steepest growth was on its @CadburyUK Twitter account, which added 25,000 followers over the course of the event, taking it to a total of 75,000.
Its CadburyUK Facebook Page, which has 245,000 fans, lifted 20% during the 17-day period, adding 35,000 followers.
Its Google+ page gained 200,000 new fans during the Games, which saw it break through the two million fans mark.
Cadbury claims this growth on Twitter is partly organic, through having engaging conversations with consumers, but also using paid-for products throughout the Games helped it achieve greater scale.
Cadbury claims to be the first brand to use a Promoted Trend in relation to the Olympics in the UK. It ran a Promoted Trend for 100 days to go, promoting its Olympics advent calendar, and it claims to have seen 10,000 people tweeting about it on that day.
It also ran a Trend on the day before the opening ceremony and in a similar way will be doing #GoParalympicsGB Trend the day before the Paralympics Opening Ceremony (28 August), which it believes has the potential to reach eight million people on Twitter.
Jerry Daykin, social media and community manager at Cadbury London 2012 and Kraft Foods Europe, said: "Growth in social has been organic, but as an FMCG brand, we are all about scale, reaching millions of people and that is hard to do without having some level of Twitter media.
"Trends work well for getting people to talk about you for a day. Although you still have to spark conversation, this can be done on a big scale and worked well for us so far."
Cadbury is giving away a pair of tickets for the Paralympics Opening Ceremony every day in the run-up, as way of galvanising support for the Paralympics GB athletes, having done the same in the lead-up to the Olympics.
Cadbury used RFID social media technology, similar to that used with the Oyster card, at Cadbury House in Hyde Park and had 19,000 people using it to receive photos from Cadbury Games, and automatically update their Facebook profile with a photo, message or status update via a series of static touchpoints.
Sonia Carter, head of digital at Kraft Foods Europe, said: "Social has been about testing and learning, and seeing what works, and we have got to a good rhythm of where we use organic and where we use paid on all of the channels."
Carter said integrating social into the main Cadbury Olympics campaign gave it the "opportunity to be much more personal and communicate with people about games in the perfect channel" and "in an authentic way".
She claimed the numbers it gained as a result were "more than we thought", making its social media activity a "massive success."
She said: "Because it is a digital Games, it is difficult to have predicated how it would impact brand traffic, but we've seen a huge uplift across every digital channel, not just social which includes higher traffic to the Cadbury website, higher CTR on email."
Cadbury has not yet gathered figures about how the activity would translate into ROI for the brand, as it is still activating its Paralympics activity. It has not revealed how much marketing spend it has invested in social media.
Daykin said: "In the run-up to the Olympics, it was divided between those who were excited and those who couldn't care less, and then the Opening Ceremony happened and everyone got behind it.
"In the build-up to Paralympics, everyone seems to be talking about it. They still want more and to be part of it, so we are making sure we continue the same level of activity."
In the lead-up to the games, Cadbury attracted controversy from those who felt that the snack food did not sit well with the ethos of the games, but Cadbury claims there was barely any negative sentiment on social media towards the brand throughout the Games.
Follow @shearmans