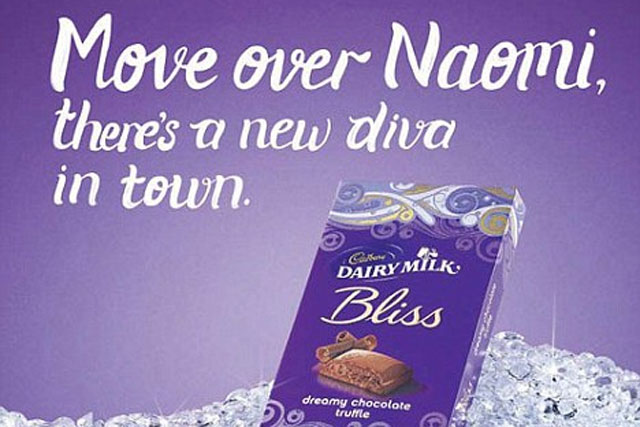 The ad to promote the Cadbury's Bliss chocolate bar included the strapline" "Move over Naomi, there's a new diva in town".
Sources close to the campaign said the ad referenced Campbell because of her "diva"-style tantrums and behaviour, and not her race, which was never taken into consideration.
However, Campbell and equality group, Operation Black Vote, believe she was referenced in the chocolate ad because she is black and have called on Cadbury's to apologise and pull the ad. Campbell is also reported to be considering suing Cadbury's over the ad campaign.
The supermodel's mother, Valerie Campbell, said: "I'm deeply upset by this racist advert. Do these people think they can insult black people and we just take it? This is the 21st century, not the 1950s. Shame on Cadbury's."
The ad forms part of a wider campaign and includes 15 press ads for its Bliss chocolate bar. The ad referencing Naomi will not be reposted. The rest of the campaign will come to an end next weekend.
The art director on the ad was Michela Nicchiott while the copywriter was Aurora Straton. The executive creative directors were Chris Bovill and John Allison. PHD was the media planning and buying agency behind the campaign.
Simon Woolley of Operation Black Vote said: "Racism in the playground starts with white children calling black children 'chocolate bar'. At best this is insensitive and, at worst, Cadbury's utter disregard for a community's feelings. Their white euro-centric joke is not funny to black people."
A spokesperson for Cadbury's said: "It was certainly never our intention to cause any offence and the campaign itself is a light-hearted take on the social pretensions of Cadbury Dairy Milk Bliss.
"Cadbury takes its responsibility very seriously indeed and we would never produce any marketing activity we felt might cause offence to any section of society."