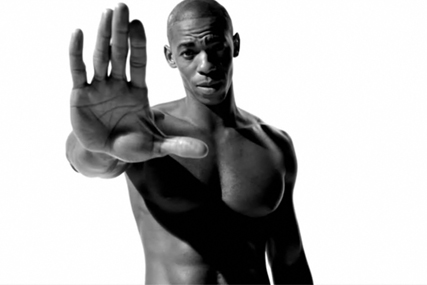 The advert, which was created by US agency Laird, features the rippling torsos of four international sports stars and actors.
The muscly foursome are Spanish tennis player Fernando Verdasco, Japanese football star Hidetoshi Nakata and American actors Kellan Lutz of 'Twilight' fame and Mehcad Brooks from 'Desperate Housewives'.
The advert has been available on the Calvin Klein X Underwear website since the range launched in March. It is filmed in black and white apart from a highlighted red 'X' which is sewn into the front of the mens' underwear waistband.
The stars talk conspiratorially to the camera and ask viewers: "Do you want to see my X?". The X is bleeped out for the majority of the advert. The result is a suggestive sequence of statements such as "I'll show you my [bleep] if you show me yours" and "You wanna see more?".
In the final few seconds of the advert the bleeper is removed to reveal the men are referring to their underwear. The group finish by declaring: "Calvin Klein X: Mark your spot".
Calvin Klein negotiated directly with DCM to secure the week-long exposure for the ad.