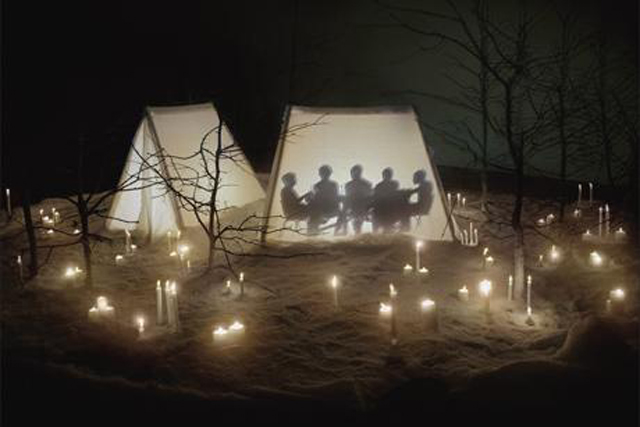 Goicolea, who lives and works in Brooklyn, New York, is known for his complex, large-scale, realist self portraits, and recognised within the worlds of both art and fashion.
His latest work, commissioned by Calvin Klein, is titled 'Middle Night, a short film by Anthony Goicolea'.

'Middle Night' is a single channel video depicting white canvas tents in a snowy, wintertime scene. The action unfolds as the observing camera rotates in a 360 clockwise motion.
Inside the tents are shadowy, silhouetted figures shown dancing, singing, reading, hanging stockings and having a dinner party.

The camera is fixed, but each rotation of the snow-covered wooded scene spins slightly more quickly than the last. Just like with a flip-book or a penny arcade machine, the video positions the camera and viewer in a static position while the activity provides a short vignette for the audience.

Selected CK Calvin Klein, Calvin Klein Jeans, and Calvin Klein Underwear stores worldwide will unveil the brands' annual holiday window displays to create an artsy feel rather than the conventional Christmas window decorations with snow, red and green clichéd motifs.

Goicolea's video will also be viewable at Calvinklein.tv and at Cku.com.