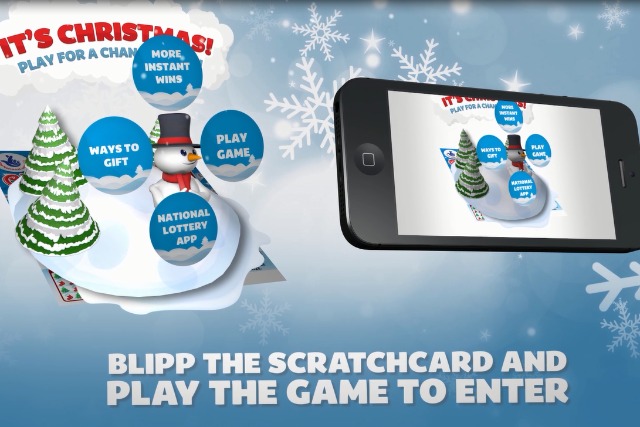 The deal means a National Lottery player who downloads the Blippar app and waves their scratchcard in front of their smartphone, will then see extra content, such as a 3D game.
Camelot claims it is the first lottery operator to bring augmented reality to scratchcards. A number of US lottery companies have used augmented reality for promotions, although not directly on products.
The idea is to stop players using and then simply discarding their scratchcards. When players "blipp" their scratchcards, the card will come to life via their screen, allowing them to play a game, participate in a £1,000 prize draw and learn how to give scratchcards as Christmas presents.
Since augmented reality remains a complex idea for most consumers, Camelot will accompany the launch with extra in-store marketing materials to explain how it works.
Martyn Baxter, head of Instants at Camelot, said the launch tied in with a wider push from the National Lottery to bring customers to its new digital platform.
He said: "We're really excited to be teaming up with Blippar to offer National Lottery players an innovative and exciting new way to extend their scratchcard experience.
"It's part of our ongoing drive to engage with all National Lottery players via digital platforms, whether they traditionally play online or in-store, while also allowing us to enhance our Christmas Scratchcard range.
"The Blippar experience is a great demonstration of how digital technology can be used effectively to create true multi-channel engagement, and we think our scratchcard players will love exploring what it has to offer."
The enhanced scratchcards will go on sale from Monday 29 September across the UK.