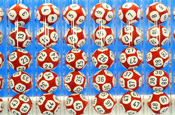 The company will launch with an estimated media spend of £8 million and has already had chemistry meetings with several agencies.

The pitch is being handled by the AAR.

Details of the launch are being kept under wraps, and it has not yet been confirmed whether the new lottery group is being set up with a connection to, or in order to help fund, the National Health Service.

The group is seeking agencies with skills in product and service launches and sponsorship experience.

The launch of NHS Lotteries follows the collapse of another Camelot competitor, the online charity lottery Monday, in 2006.

Monday - The Charities Lottery, launched by Chariot, was the world's first online-only lottery, and pledged to give charities a larger share of takings than the National Lottery.

Jackpots were cap-ped at £200,000 and were awarded to players with the closest match to six numbers.
Monday collapsed just four weeks after its launch, which was backed by a high-profile advertising campaign created by M&C Saatchi, with Chariot admitting it had failed to come anywhere close to its target of five million ticket sales a week.

Last month, Camelot retained Abbott Mead Vickers BBDO to handle its £20 million Lotto advertising business, following a pitch against McCann Erickson, Beattie McGuinness Bungay and
Fallon.

In 2007, the National Lottery Commission awarded Camelot the licence to run the National Lottery until 2019.

Camelot, which has run the UK's National Lottery since its launch in 1994, was selected as the preferred bidder over the Indian company Sugal & Damani UK because it was considered "most likely to generate the best returns to good causes".

The National Lottery undertook a major rebranding programme in 2002, designed to combat falling sales, which resulted in the main game being renamed Lotto. However, the games as a collective are still known as The National Lottery.