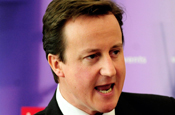 The Tory leader will appoint a prominent figure from the industries to head the inquiry. "I know it will make a bold contribution to our plan to create a new economy fit for the 21st century," he said.

Cameron believes Labour has undervalued the sector, even though it is worth £60 billion a year - more than 7 per cent of the economy.

Cameron said fibre-optic broadband could open up new markets. He wants most of Britain to have access to it within five years.

The Tory offensive comes as the Government prepares to unveil plans for the "jobs of the future".

Lord Carter, the former Ofcom head (now the communications minister) is working on a Digital Britain report and ministers have set up a group, which will hold its first summit in October.