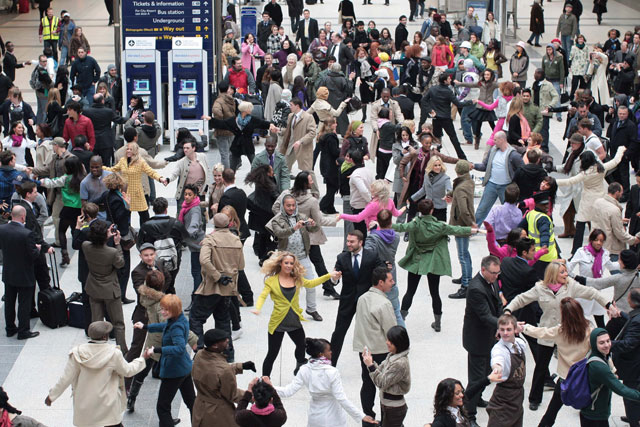 Entries for the Cannes Ad Festival numbered in the hundreds when the Strand man arrived on Britain's TV screens in 1959. But, even if the competition's categories had attracted more than 4,600 submissions (as they did this year), the odds are that he would have walked away with a gold Lion.
The campaign for Strand cigarettes was British creativity at its best. Original, innovative and intriguing, and with a character - a trilby-wearing loner walking rain-soaked streets at the dead of night with just a cigarette for company - so enigmatic that everybody was talking about him.
But the Strand campaign goes down as one of the biggest disasters British advertising has ever known. Exactly why it failed has been the subject of much debate. Some have suggested that nobody wanted to identify with such a lonely and friendless soul, and others that smoking old socks was preferable to lighting up a Strand.
Whatever the reason, the Strand flop poses a question that the ad industry still struggles to answer: "Is creative and effective advertising always the same thing?"
The IPA Effectiveness Awards, established in 1980, is an essential part of the industry's message that advertising actually works and that its impact is measurable. This was largely thanks to the work of Leo Burnett's Simon Broadbent, who was among the first to apply the techniques of econometric modelling to sales data.
As Broadbent pursued his mission to prove advertising's value, Donald Gunn, Leo Burnett's one-time worldwide director of creative resources, and a firm believer that creativity could not only boost immediate sales but build a brand's reputation over the long term, was establishing The Gunn Report.
Gunn was also attempting to measure what had seemed unmeasurable. The Gunn Report is compiled from online, offline, national, regional and global data to produce annual creative league tables. Indeed, it's claimed that the salary of many a network creative chief is linked to that network's Gunn Report ranking.
Last year marked the start of what Gunn has called "a dream come true". For the first time, The Gunn Report and IPA Effectiveness Award data was merged. The aim was to prove once and for all that there is a direct link between creativity and effectiveness.
The 2010 report analysed 257 campaigns over a ten-year period from 1998. With the benefit of extra data gathered by Gunn before he established The Gunn Report, the 2011 analysis was expanded to cover 435 campaigns over a 16-year period from 1994.
Both Gunn and the IPA believe the results are compelling. The research claims that between 1994 and 2002, creatively awarded campaigns were around three times as efficient as non-awarded ones. This number rises to 12 times more for the period between 2003 and 2010.
Peter Field, the marketing consultant who pulled the Gunn and IPA data together and analysed it, is in no doubt that the correlation between creativity and effectiveness is now a no-brainer.
"Creativity is not the risky adventure that many in general management would appear to believe," he suggests. "It is becoming even safer over time."
Janet Hull, the IPA's director of marketing and reputation management, is equally positive. "The efficiency of highly creative campaigns is growing," she declares. "The more creative you are, the more you get for your money."
So, can the industry confidently rest its case? Some believe there's still room for doubt.
They argue that creativity is just too subjective to be measured and that IPA Effectiveness Awards papers don't necessarily tell the whole story because many clients won't allow competitive information to be divulged.
Field says that while the outcome will never be perfect, the results are about as accurate as it's possible to make them.
"Of course it's true that creativity is subjective," he admits. "But The Gunn Report reflects the opinions of hundreds of awards judges. We're tapping into creative wisdom that may be subjective, but is also pretty authoritative.
"At the same time, the IPA has access to confidential data - including market share and share of voice - that forms part of an Effectiveness Award submission, but is never made public."
The report points to the social media explosion as the main reason why highly creative campaigns are becoming more efficient and effective over time.
It cites a number of high-profile examples, including Cadbury's "gorilla", which generated 24 million extra viewings with the help of a dedicated download website and YouTube.
Meanwhile, Barclaycard exploited its 2008 "waterslide" commercial with online competitions and Waterslide Extreme, a popular and free iPhone app.
In 2009, T-Mobile primed social networks for its "dance" at Liverpool Street station, which resulted in the return on marketing investment rising by 46 per cent.
"The amount of sharing that happens because of social media has amplified the need for outstanding creativity," Field adds. "If brands aren't getting talked about, they're going to get shut out of this world."
Whether or not the IPA and Gunn data needs to be constantly updated is a moot point. Field says fresh analysis will probably be produced every two years, rather than annually, from now on.
There comes a point when clients begin suffering statistical overload, while a hard core of marketing refusniks won't buy the argument, however forcefully it is presented.
"There are still marketers who remain suspicious about advertising, but I've never felt that I'm bashing my head against a brick wall," Field says.
His confidence is boosted by what's been going on among global players such as Unilever, with an ad budget creeping towards £5 billion, and whose senior marketers did the rounds of Silicon Valley last year to keep abreast of what's happening at the cutting edge of consumer communications.
And it's a safe bet that Procter & Gamble, the world's biggest advertiser, will be in force at Cannes seeking creative inspiration.
"These organisations understand how creativity is increasingly linked to business success and embrace it," Field points out. "Where they lead, others will follow. The tide is running in our favour."
WHAT THE REPORT SAYS
- Over the past 16 years, creatively awarded campaigns have been seven times more efficient than non-awarded ones. Between 2003 and 2010, they were 12 times more efficient.
- Creatively awarded campaigns are becoming more efficient over time. Non-awarded campaigns are becoming less so. This is because of the 'buzz' effect caused by consumers sharing campaigns on social networks.
- The efficiency gap between awarded and non-awarded campaigns appears to widen in the FMCG sector, suggesting creativity may be more valuable for packaged goods.
- The more creatively awarded a campaign, the more effective it becomes. Campaigns picking up five or more creative awards are around three times as efficient as campaigns winning between one and four major awards.
- The benefit of creativity increases as the budget rises, but can be negated if it is cut too far.
- Awards judges who choose emotional campaigns - those that attempt to change feelings towards a brand - are also selecting in favour of effectiveness. Emotional campaigns work better than those just providing information.
- The link between creativity and effectiveness in not-for-profit campaigns remains unproven. This may be to do with the fact that awards judges are less influenced by emotionally charged creative work in this sector.