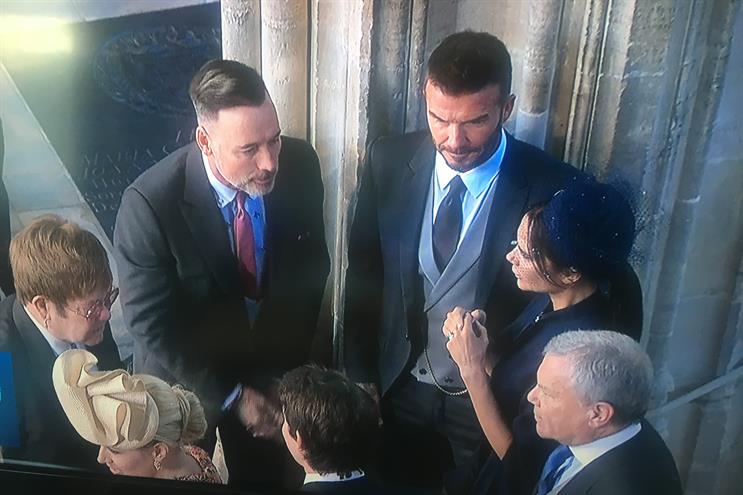 Sir Martin Sorrell doesn't have a job but he sure knows how to network. The former WPP boss was invited to the wedding of Prince Harry and Meghan Markle and was spotted hob-nobbing with Sir Elton John, David Furnish, David and Victoria Beckham in St George's Chapel in Windsor. Sorrell left WPP on 14 April after an investigation into allegations of personal misconduct, which he denied, but has been keen to maintain a high profile. He was seen on TV saying "hi" to John and Furnish but didn't appear to know the Beckhams well, judging by the footage. Perhaps Sorrell's next move should be to set up an influencer agency, though he might have to ditch the morning suit...
Also at the wedding in their glad rags were Simon Daglish (left), deputy managing director of commercial at ITV, and Johnny Hornby, founder of The & Partnership. Both of them have done charity work with Prince Harry. Daglish, who went to military school, is co-founder of Walking With The Wounded and Harry has taken part in a series of fund-raising treks in the Arctic for the charity. Hornby is chair of Sentebale, a charity co-founded by the Prince to help children and young people affected by HIV in Lesotho and Botswana. You don't have to be posh and know how to party to get on with Prince Harry, but it helps!
Most media moment of the royal TV coverage: Kirsty Young, the BBC newsreader and commentator, telling viewers she had spotted "my old man" Nick Jones, aka Mr Soho House, and one of her daughters in the crowd inside the church. Her husband rolled out the red carpet, metaphorically speaking, for Harry and Meghan when they had love dates at Soho Farmhouse in Oxfordshire.