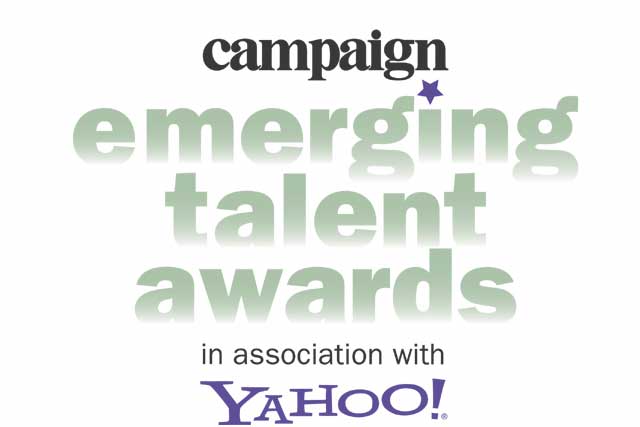 Life, so they say, is all about timing. The right place, at the right time, with the right mindset. Spotting an opportunity as it approaches and then seizing it with both hands. Pivotal moments. Life-changing experiences.
Five of the "Emerging Talents" featured in the Campaign Emerging Talent Portfolio are about to be handed a seriously career-boosting opportunity with the launch today of the Campaign Emerging Talent Awards, in association with Yahoo!.
Coinciding with the Cannes Festival of Creativity, this new initiative is designed to give recognition to some of the most innovative and intriguing people from across the globe who, though not yet over 30, are already most definitely shaping the future of creativity.
For all the 50 names in the book, this is a pivotal moment.
Apart from the kudos, Yahoo! will be sending the overall winner to New York for a once-in-a-lifetime experience. Plus, winners of all five categories (right) will receive £500 and the opportunity to show off their talent on the biggest creative canvas on the web - the Yahoo! "mail log in" page, which reaches more than two million unique users a day (comScore March 2011). Yahoo! champions creativity and is an expert in providing innovative canvases for advertisers to engage with their target audiences using a unique blend of Science + Art + Scale.
We've brought together a distinguished group of judges whose job it will be over the coming weeks to sift through the talent represented here and choose individuals who stand out, even from this extraordinary crowd.
The nominees are a disparate group, with varying career paths, passions, specialisms and ages. But a lack of experience need prove no barrier and our Emerging Talents can take inspiration from none other than Graham Fink, the former M&C Saatchi executive creative director who joined Ogilvy & Mather China as its chief creative officer last month.
After applying for his first advertising job at CDP, he was told they were looking for someone with more experience.
Undeterred, Fink returned the next day, dressed as an old man. He got the job.
See the winners in the September 30 issue of Campaign and at www.advertising.yahoo.co.uk
The Awards
Big Experience - for outsize achievements in a short time span
Digital in the DNA - for immersive digital thinking
The Polymath - for talent across a broad spectrum
The Explorer - for maverick talent that pushes the boundaries
The Eighth Wonder - for extraordinary talent on a global scale
The Campaign Emerging Talent Prize, in association with Yahoo! for the overall winner.
THE JUDGES
Jeremy Craigen, executive creative director, DDB UK
Flo Heiss, executive creative director, Dare
Simon Sankarayya, D&AD president
Steve Aldridge, executive creative director, Engine
Jo Hagger, chief integration officer, glue isobar
James Tipple, vice-president, marketing, Yahoo! EMEA
Claire Beale, editor, Campaign
Before she was 30:
Jo Hagger, chief integration officer, glue isobar
Fresh from graduate college and with ambiguous ambitions of working in 'the creative industries', Hagger bounced straight into a job in the music industry and was introduced rapidly into the "tea and two sugars please, love" school of management, where spotting emerging talent was more likely to mean seeing how short the skirts of the young hotties from the press department were, rather than which bright young individuals could be developed for career fast-tracking. It was an important, albeit confidence-eroding, lesson in institutional sexism and nepotism. She was eventually able to put this experience to good use when she found her way into the ad industry.
Thanks mainly to being extremely average at admin, Hagger quickly escaped the confines of early career "supporting role" status (including turning down an offer to become Peter Bazalgette's PA) - to gradually work her way into agency management and leadership roles, with key support along the way from her fabulous now-mentor Mark Cridge (glue's founder and now MD of Isobar global). Over recent years, Hagger has been increasingly involved in initiatives to promote talent development and better build coaching and mentoring into creative businesses.
Lessons to the young Hagger?
Recognise as quickly as possible, that no-one does your career planning or development for you. (Especially if your 'network' upon leaving school consists mainly of very nice, clever people who have about as affinity with the creative industries as Robert Mugabe with Desmond Tutu).
Find people that are doing what you want to be doing and ask their advice.
Even better, make friends with them where feasible (without stalking).
Approach your personal development with pragmatism and clear-headedness. Go outside your comfort zone and don't be afraid to fail, multiple times - as long as you learn from your mistakes ...
Be mindful of the kind of "work" that you most love doing.
Give time to your interests and your passions, always broaden your horizons and enjoy meeting new people.
Remember that the elusive "work-life balance" is made much easier if you can find a job that you are passionate and enthusiastic about - so that work no longer feels like work.
Before he was 30:
Jeremy Craigen, executive creative director, DDB UK
When Jeremy Craigen was a teenager, he was a public school punk and a vast disappointment to his parents, bunking off school to see bands (The Ruts, in particular). He was one of two in his year whose applications to be a prefect were declined. He soon became a skinhead - only to be told, in no uncertain terms, that he couldn't return until his hair had grown back.
As a teenager, Craigen was quite into drama. However, after auditioning for four different drama schools and not getting any callbacks, he quickly realised that perhaps he wasn't any good at acting. Riding high on rejection, he visited his brother in Australia where he had a reality check, packing bags at a Woolworths in a Sydney suburb, sneaking out to the car park to smoke fags.
He'd been told by school that advertising might be a good career for him and he'd always loved ads as a child: the Honey Monster, the Cresta Bear and anything created by John Webster. He'd hated education, not responding well to being told what to do, so university didn't appeal. Instead, he did the CAM course, which gave a broad overview of the marketing industry.
It wasn't until he met Jeremy Carr on a D&AD course that he thought he could become a creative. They did what any young creative team does: took the Campaign Top 20 agencies list and decided who they wanted to approach. Their only stipulation was that they didn't want to work at Ted Bates. Three months later, when only Ted Bates would employ them, they took the job. Eventually, new management came on board, the agency moved to Soho Square and they began to enjoy it.
When Ted Bates merged with Dorlands, it moved - fatefully - on to Westbourne Terrace, just across from BMP DDB. It took Craigen and Carr two years to tentatively approach the agency. The creative director Tony Cox (God bless him) took a chance on them.
Twenty-one years later, as ECD at DDB UK, Craigen reflects that success is always about opportunities.