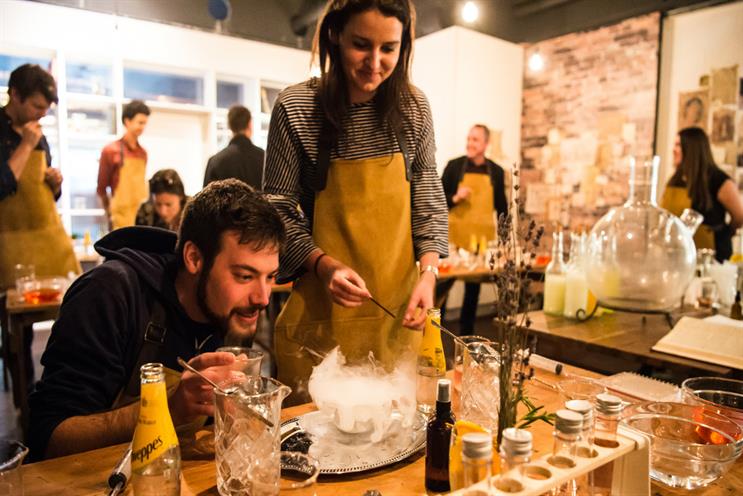 WINNER
Haygarth Group
Haygarth Group, founded in 1984, redefined its creative process in the past year, restructuring key departments to bring together tech, PR, social and experiential. It also grew its workforce to 115 people and introduced a graduate programme, as well as funding technical skills like UX development and experiential design.
The agency worked on a number of standout activations in the past year, including Ferrero Rocher's "Behind the Layers", a pop-up featuring 360° projection-mapping, an intimate chef's table experience, desserts created live by master chocolatiers, storytelling actors and a cocktail bar.
It also devised an activation for Schweppes at London Cocktail Week that transported consumers back to 1783 and into the laboratory of the brand founder, Jacob Schweppes. Guests took part in a masterclass crafting colour-changing cocktails, creating flavoured bubbles and inhaling cocktail clouds in Schweppes' laboratory.
In the past year, the agency received its highest client survey scores, won more than £2m of new business and opened the doors of its first global office in Chicago. Turnover and revenue also increased year on year: turnover was up 47% to £23m and revenue was up 19% to £20m.
Judges praised the agency for the work it had done to turn itself around to become a future-facing shop.
Highly Commended: Jack Morton Worldwide
Jack Morton Worldwide's recent activations include The Google Curiosity Rooms, a series of immersive and shareable experiences in London's iconic Selfridges store, designed to pique interest among UK press, influencers and consumers about Google's Pixel 2 phone.
It also worked with Honda on its Challenge Lab at the 2017 Goodwood Festival of Speed, which gamified the traditional car brochure, turning technical specifications and product features into fun challenges. Several partnerships have also resulted in the delivery of integrated campaigns, such as "Spotlight" for Konica Minolta.
The agency posted strong growth in turnover and high staff retention rates for 2017.
Finalists
Giant Spoon
Lively
Seed Marketing
XYZ