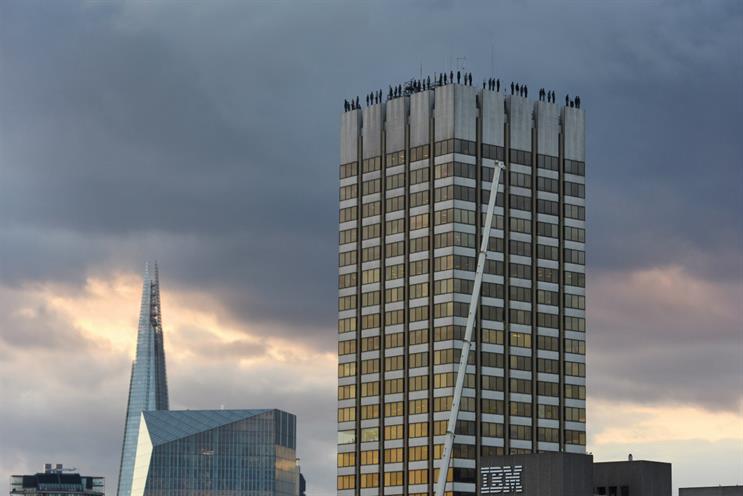 WINNER
Calm 'Project 84'
Adam & Eve/DDB
Male suicide is an issue that needs much greater acknowledgement. Charity Calm, which works to prevent male suicide, staged Project 84, a campaign featuring 84 sculptures of men with hoods pulled over their faces, placed on top of the ITV tower in London's Southbank.
This represented the number of men under 45 who take their own lives every week in the UK, with the sculptures aiming to make the issue as real and as visible as possible, as they were based on men who had killed themselves. The hoodies highlighted the isolation often experienced by those facing depression and the way so many men suffer in silence.
The charity forged a partnership with ITV's This Morning, which devoted a week of programming to the campaign and male suicide, while films were also seeded on social media, driving people to the charity's helpline/website to find support.
People could also learn more about the stories associated with each figure, and sign the petition that led to a parliamentary discussion of the project.
The campaign, devised with agency Adam & Eve/DDB, prompted 220,000 signatures on the Change.org petition to the Health Secretary. There was also a 34% increase in demand for the helpline and webchat support in the two weeks following the launch, compared with the prior weekly average.

Highly Commended: Ken Fawes and the Future of News – The IAB UK
Engage is the Interactive Advertising Bureau (IAB)'s flagship conference, attended by more than 1,000 delegates. It designed a session around the future of news to address the 'fake news' epidemic, to emphasise the difference between professionally written content and fake news online.
To bring a face to the issue, the IAB invented an extreme persona – Ken Fawes (an anagram of 'fake news'), editor-in-chief of the fictitious Cincinnati Sentinel, whose publication was credited with helping Donald Trump win the coveted swing state of Ohio during the US elections.
The IAB spent more than six months creating the Ken Fawes persona to show how easy it is to be duped by a fake. At the conference itself, the IAB hired an actor to play Ken Fawes, crafted a script and included 'Ken' in event collateral. David Walsh of The Sunday Times was planted in the audience to out him as a fake, with 91% of attendees ranking it as the best session of the day.
Finalists
Times & Epochs. The Gathering – ASR RATOBORTSY
Valentine's Day at Greggs – Taylor Herring and Greggs
The Converse One star Hotel – XYZ and Hotel