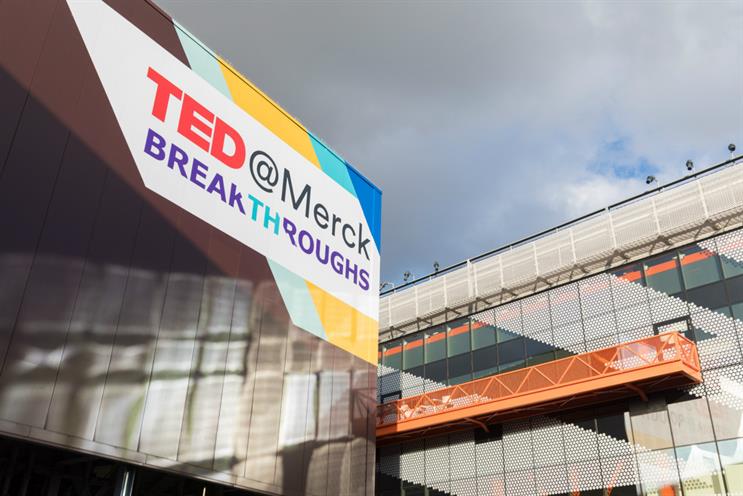 WINNER
TED 'TED@Merck2017'
Touch Associates
In January 2017, agency Touch Associates was brought in to support the production and communication around Merck's collaboration with TED. This TED@Merck partnership includes engagements at TED conferences and video content to amplify the organisation's untapped ideas. One highlight was the inaugural TED@Merck event held at Here East in London in November 2017, attended by 300 people and live streamed to 40 countries.
Touch delivered a communication programme, including building a bespoke application site for speakers, in six weeks. At the event, Touch created 'Activation Zones' to bring to life the theme of breakthroughs outside of the main room where talks were presented. The space also enabled presenters to connect with their audience beyond their presentation. The space was designed to be a showcase for ideas and insights within a more intimate environment.
VR headsets combined with state-of-the-art motion and gesture detection technology also gave delegates the chance to bend strings, catch and even customise 'Mercrobes', a 3D Merck-specific structure, bringing them closer to the brand.
Feedback revealed that 98% of delegates said they would share ideas from the event, while 88% said it had encouraged them to improve their own storytelling and communication skills.
Highly Commended: The Converse One Star Hotel – XYZ and Design
The Converse One Star Hotel was staged in the heart of Shoreditch during school half-term and coincided with London Fashion Week, one of the busiest times in the fashion and streetwear calendar.
The project sought to fuel the One Star sneaker as a street style icon. XYZ and design agency Hotel worked closely with Converse EMEA to produce its biggest and most ambitious ever brand activation in the UK. The three days of programming brought together more than 50 brand contributors.
XYZ was the lead agency, managing all third parties and budgets as well as co-ordinating the end-to-end experience and execution, while Hotel was briefed on branding, ideas and spatial design for the project.
Finalists
Google Innovation Hub – Action Impact
Mastercard GRAMMYs "Mastercard House 2018" – BMF Media
Big TV Festival 2018 – ITV, Channel 4, Sky and Thinkbox