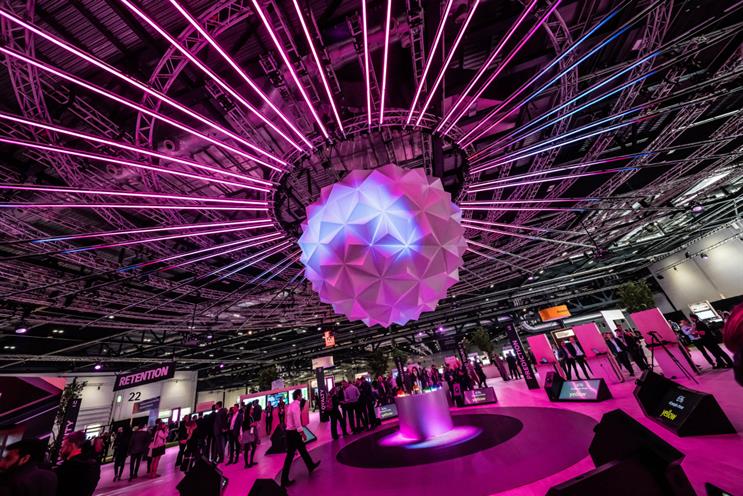 WINNER
Adobe Summit 2018
Taylor Bennett Partners
The Adobe Summit EMEA 2018 returned to ICC ExCeL London in May 2018. Focused on the future of digital marketing, it welcomed 6,000 delegates.
With the conference focusing on how to deliver personal and engaging customer experiences, it was vital that the event practised what it preached, underpinned by the latest techniques.
Taylor Bennett Partners created a central interactive experience that showcased Adobe's new AI engine 'Adobe Sensei'. Delegates were able to control bespoke live content on the 8m globe using facial recognition and RFID technology embedded in smaller coloured replicas. Eight aroma machines delivered scents depending on users' interaction with the experience, along with accompanying audio tracks delivered by directional speakers.
Creating different spaces was also vital to reflect the multi-faceted nature of the event; different areas included an exhibition/community space, a main plenary space, an executive private meeting area and 15 breakout spaces.
The event also had to deliver a 'celebration' theme: guests were 'transported' from London's Docklands to Miami's vibrant South Beach, where they were greeted by an eight-metre-high, four-sided projection mapped tower topped with 24 lasers, with entertainment including a 'slinky' interactive slide.
Attendance on last year's event was up by 10%, while more than 500 meetings were held, an increase of 18% compared with last year. There were also 2.9 million social views of customer video content created.
Highly Commended: BP Live Magic Show – KBW Design
The BP Live Magic Show, which was staged at New Scientist Live in London, aimed to inspire and engage the next generation of young scientists and engineers around the BP story, "Advancing the energy transition".
The show consisted of a 13-minute, fast-paced scripted drama, presented and performed by two digital illusionists, combining use of close-up iPad magic with large-scale digital illusion performed on giant LED screens. Audiences were immersed in the dual challenge of meeting society's need for more energy, while also reducing carbon emissions. The show amassed an audience of up to 300 people at a time.
Finalists
Virgin Fibre x Destiny 2: EGX – Influence Communications
Thales Cyber Security Escape Room – Make it Clear
Mercedes-Benz Fashion Week Russia – SPN Communications, Artefact Communications Agency
Accenture Kaleidoscope – Synergy Global