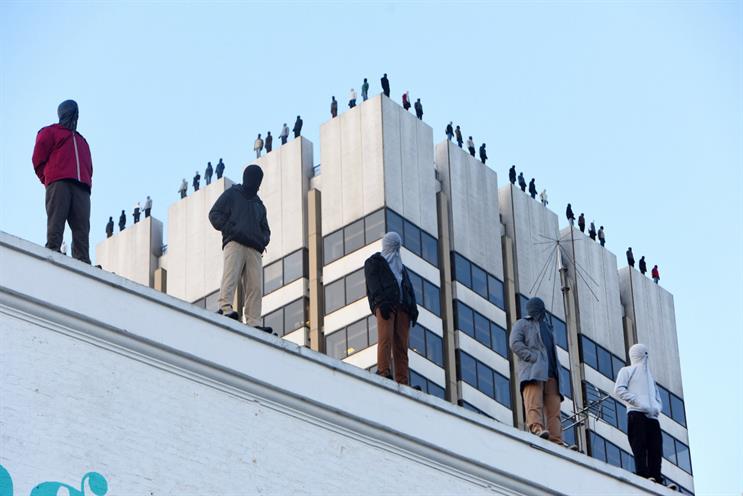 WINNER
Calm 'Project 84'
Adam & Eve/DDB
Charity Calm spearheaded a campaign to put male suicide under the spotlight. In the UK, suicide is the single biggest cause of death in men under 45, with 84 men taking their own lives every week. Despite this, suicide is not talked about in the media and under-acknowledged by culture at large, with people unable to appreciate and unwilling to address the problem's magnitude.
To make people sit up and take notice, and ensure male suicide and bereavement became a ministerial responsibility, Calm created 84 individual life-like sculptures, a personal reminder of an individual's life taken by suicide. The figures were produced during a series of workshops, where bereaved families were guided in American street artist Mark Jenkins' tape casting technique. For maximum impact, the figures were placed on top of the ITV tower.
The installations and their stories attracted national and international press interest; Calm also wanted the campaign to drive people in crisis to its website, providing them with support and information.
A week after launch, there were 20,000 signatures on the Change.org petition to the Health Secretary, and a 34% increase in demand for the helpline and webchat support in the two weeks following the launch, compared with the prior weekly average.
Highly Commended: Wrap Up London – Sense
Each year Sense's #NoTimeToWaste initiative involves the agency offering its expertise to a chosen cause, pro bono. It worked with Wrap Up London, which gathers old coats from people who no longer need them and distributes them to people who do.
Iconic figures around the capital – including statues of the refugee children of Liverpool Street and ambassador for youth addictions, Amy Winehouse – were clothed in toasty red parkas, with the charity call to action stitched in as a label.
Branded comms were produced to support the initiative and the activity was supported by print and broadcast media. A record breaking 24,109 coats were handed in.
Finalists
Chevrolet GoalKeepers – Jack Morton Worldwide & Commonwealth
Dream The Impossible Dream: The Tim Bacon Foundation Launch – Make Happen
FBU Exhibition – People
Old Mout Cider Kiwi Camp – TWELVE for Heineken