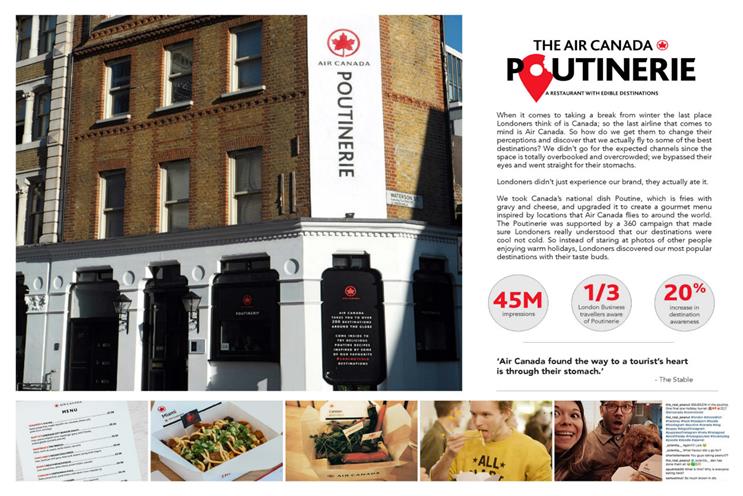 WINNER

Air Canada 'The Poutinerie'
JWT Live
Air Canada wanted to boost winter travel sales from London Heathrow, focusing on routes that are often not considered, not least because of Canada's reputation for cold winters.
JWT Live devised a pop-up restaurant in Shoreditch in London – "The Poutinerie". It transformed Canada's national dish of chips, cheese and gravy (poutine) into gourmet versions inspired by Air Canada destinations.
The restaurant was fitted with maple wood walls and photographs showcasing 10 destinations. Each dish played on the food culture of each destination, taking local ingredients to create foodie experiences. These included Boston loaded crab, Halifax downstream poutine, Buenos Aires chimichurri, Montreal's The French and Portland's vegan fries.
Guests could also enter a photography competition on Instagram to win a trip, while a VR experience allowed them to explore the interior of the latest Air Canada plane.
One in three business travellers in London heard of The Poutinerie, with nearly 5,000 poutines sold over the eight days of the event, 20% more than expected. Post-experience, there was a 20% increase in destination awareness and a 30% increase in the likelihood to fly Air Canada post-experience. This event was part of an integrated campaign including digital OOH and search.
Highly Commended: The UK's First Bloody Mary Café: The Tabasco Pick Me Up Pit Stop - Hunter Public Relations
To make hot sauce brand Tabasco stand out during the busy Christmas season, Hunter Public Relations identified "the morning after holiday parties" as a key activation moment – focusing on food that people crave after a big night out.
The brand staged the Tabasco Pick Me Up Pit Stop near Shoreditch overground station during Britain's biggest festive party week, when 13.7 million Brits were expected to attend their Christmas parties. It served 'morning after' drinks and dishes, such as Bloody Mary margherita pizza and smashed avocado and Spinach Mary. More than 500 dishes and cocktails were served.
Finalists
Christmas Deserves Lurpak – BD Network
Worlds First Sky High BBQ – Fabulous BBQ
Ferrero Rocher: Behind the Layers – Haygarth
Taste of London – IMG Culinary