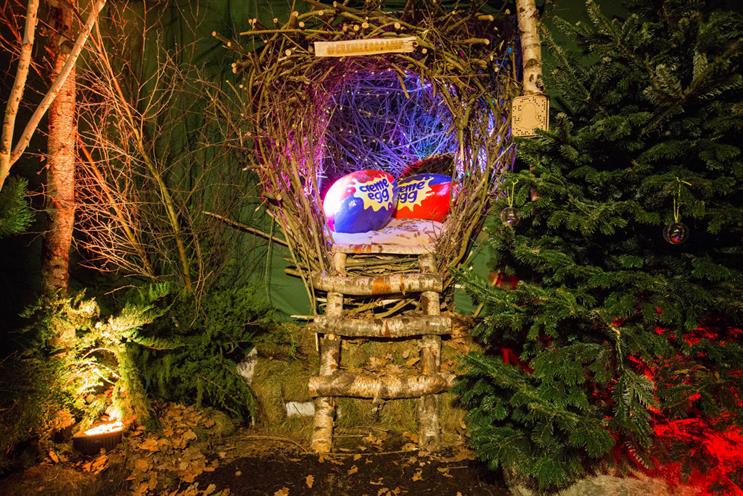 WINNER
Cadbury 'Creme Egg Hunting Season'
Elvis
Cadbury Creme Eggs are only sold for three months each year, so generating sales quickly is critical. To make the chocolate highly desirable, Cadbury invented a season specific to the chocolate – Creme Egg Hunting Season, including the chance to hunt for an elusive White Chocolate Creme Egg.
A TV ad introduced people to the world of Creme Egg Hunting Season, while the live element – the Creme Egg Camp – enabled people to get involved for real. Over and above the physical experience, it created a set for all social content, while influencers and media partners also created activity within the camp.
People could explore the camp – a forest-themed space in London's Shoreditch – socialise and try a range of different Creme Egg recipes, as well as hunt for Creme Eggs. There were multiple photo opportunities, while hashtags and snap codes were carved into trees.
Guests could eat 'Fon-goo' in the tree house, slide down the tree trunk slide, listen to Creme Egg songs around the campfire, take a photo in a giant nest with oversized Creme Eggs or go fishing for a Creme Egg fish in a kayak. Cadbury also partnered with Deliveroo to take recipes to people who could not make it to the camp.
A total of 4,397 people took part in the experience, 1,051 pieces of #CremeEggCamp content were generated and value sales for Creme Egg increased across the product's single, five- and12-pack formats.
Highly Commended: Gorillaz x Eon 'A solar collaboration' – Slice
In 2017, energy company Eon rolled out a number of new products, including a solar storage unit that allowed consumers to store solar energy for use at night. To increase awareness and build excitement around its products, Eon worked with Slice to devise a a two-part collaboration project.
Eon partnered with Gorillaz to create a sun-powered music video for their track 'We got the Power' and resurrected the fictional, iconic music studio 'Kong Studio' – this time for real, as a fully-functional solar-powered, touring, recording studio. Up-and-coming local talent had the opportunity to create a music track in one night using solar energy stored up from the day.
Finalists
HBO SXSWestworld – Giant Spoon
Ferrero Rocher: Behind the Layers – Haygarth
Magnum Pleasure Store 2017 – Hot Pickle
ASICS #IMoveLondon – The Department