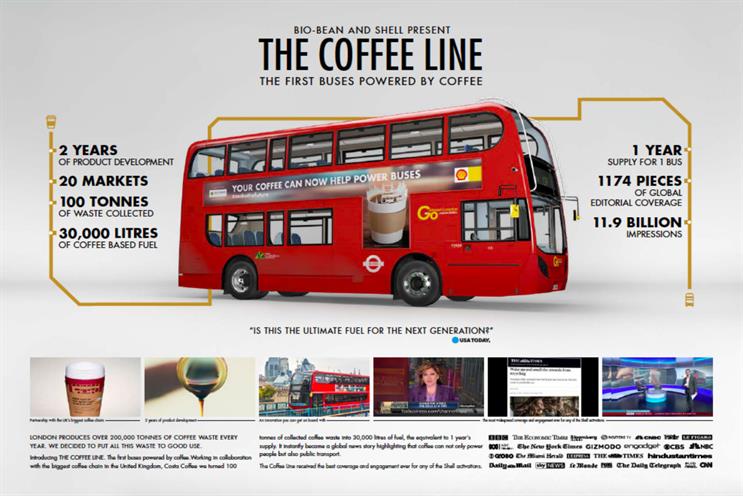 WINNER
Shell 'The Coffee Line'
JWT Live
The world needs more, cleaner energy. By 2050, energy demand will be double current rates. Shell demonstrated how it could help to create or enable new forms of energy, as well as helping people to better understand the issue.
Working with JWT Live, the creative idea was the first buses powered by coffee, showing how CO2 emissions can be reduced by capturing an energy source that otherwise would have gone to waste.
In London, Shell created 30,000 litres of B20 biodiesel made partly from coffee oil, harvested from coffee grounds collected from coffee shops. Commuters in London were powering their own commute, with waste coffee being used to fuel London buses. The biodiesel was delivered to official London bus depots, creating the equivalent amount of fuel to run one bus for one year.
There were 1,174 articles of news coverage, while video views totalled 42 million, with engagement rates 7% higher than industry sector benchmarks. The project received the most successful coverage for any Shell activation in the past five years.
Highly Commended: HBO 'SXS Westworld' – Giant Spoon
To experience HBO's premium content first-hand and drum up excitement ahead of season two of HBO's hit series Westworld, the television network immersed consumers into the show's narrative by building a real-life replication of the Westworld theme park at South by Southwest festival in Austin, Texas.
No two consumers received the same experience at SXSWestworld. Fans and uninitiated viewers alike had the opportunity to explore and interact with over 90,000 square feet of space, 66 actors, and 444 pages of immersive theatre as if they were transported into the show.
Finalists
Google Play Playtime 2017 – Gramafilm
Ford Go Faster – Imagination
Google Curiosity Rooms – Jack Morton Worldwide