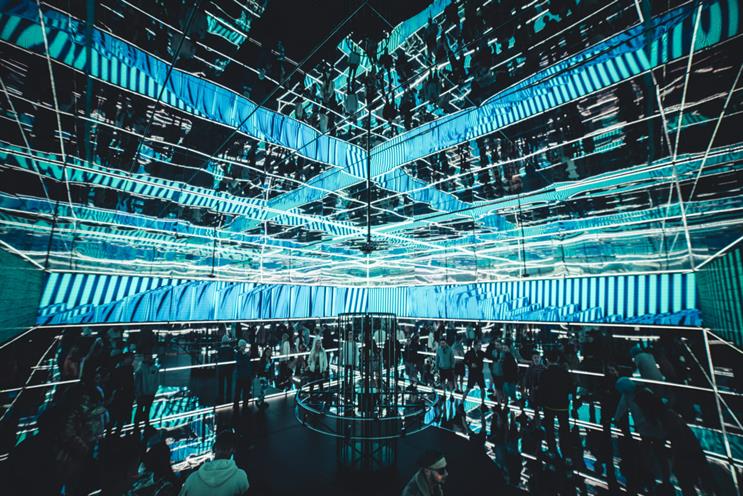 WINNER
Samsung 'The Infinity Rooms'
Iris Culture
To celebrate the infinity screen on the Samsung S8, its VR capability and 360-degree camera, Iris Culture created the Samsung Infinity Rooms, staged at festivals including Reading, Bestival and Boardmasters.
The concept was inspired by Japanese artist Yayoi Kusama's infinity rooms – mirrored chambers with LED lights – but remixed with mobile tech and executed with production values more akin to a retail installation from a luxury brand. The room was designed to encourage festival goers to experience something immersive and creatively interactive that would not be possible without Samsung or Samsung products.
Festival goers experienced VR and 360 camera demos in the queue, before stepping into the infinity space and selecting a series of bespoke audio-visual parameters via a mobile app on multiple S8s mounted in the centre of the room. These inputs created a three-minute AV sequence broadcast into infinity via an array of LED products and surround sound.
Each session was automatically sent to attendees upon exit, to share to their social channels. The structure itself was a cube housing the infinity room, mirrored on all surfaces to create 10 times repeat reflections in all directions.
There were more than 13,000 hands-on experiences with the S8, Gear 360 and Gear VR, while 74% of festival goers surveyed thought Samsung and music was a "good fit".
Highly Commended: 'The Wunderbar of Adventure' for Monkey 47 Gin at LCW - Made Up
Pernod-Ricard artisan gin brand Monkey 47 staged its 'Wunderbar of Adventure', a gin tasting experience, at the 2017 London Cocktail Week. It marked the first time the drink was introduced to consumers.
Guests walked on to a 'Yellow Brick Road' pathway to the bar, where they were given a jam jar filled with ice and a shot of Monkey 47 gin. The immersive and interactive environment featured an illuminated, working ferris wheel measuring just under four metres high.
It was the most popular activation, voted by attendees, at London Cocktail Week 2017's hub in Spitalfields Market.
Finalists
Google Play Playtime 2017 – Gramafilm
Heart-racing experiential launch for Adidas' 2018 Cold Blooded range – On Event Production Co
Ralph & Russo Prêt-à-porter Spring/Summer 2018 – Setsquare Staging
O2 #FollowTheRabbit – Undercurrent