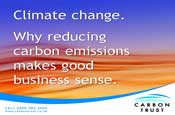 The brief, which will be to create an over-arching branding campaign raising the profile of the Trust, is worth around £12 million.
It is the first piece of business to come up for grabs since the Trust compiled a roster of agencies in January.
The Trust, which was set up to inform businesses in the public sector about lowering carbon emissions, has commissioned a 12-month campaign. It will attempt to draw public attention to the varied services that the Trust undertakes. The first work will break within the next two months.
Ian Priest, the founding partner at VCCP, said: "Carbon emissions are a really hot topic at the moment and the Trust is the lead business brand in that area, so it's a wonderful prize to be its lead agency."
The Carbon Trust compiled it roster in January this year following a protracted statutory review process, which included McCann Erickson, Leo Burnett and Miles Calcraft Briginshaw Duffy.
The roster agencies will be asked to pitch against each other for every forthcoming piece of business.