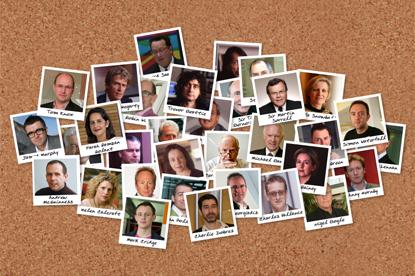 Ever fancied running your own agency? Actually, we know the answer to that one, thanks to the overwhelming response to our online Fantasy Agency poll.

The painstaking process of compiling the results has now been completed, and we can reveal the line-up of adland's über-agency.
Steering the ship, the flamboyant figure of Robin Wight was our clear winner to act as chairman.

In a virtual neck-and-neck result for the chief executive position, Cilla Snowball narrowly pipped Johnny Hornby.

Adland legend Sir John Hegarty would lend gravitas to the key position of ECD, while Robert Senior would add another agency to his collection as managing director.

Bringing home the bacon, Andrew McGuinness would occupy the account director's hotseat, with CampaignLive blogger Ivan Pollard running the media operation.

Lining up as non-executive directors, Jeremy Bullmore and Steve Jobs would lend experience and digital know-how to the mix, with Mark Cridge acting as digital director.

Completing the line-up, MT Rainey would act as executive planning director, with Sir Martin Sorrell overseeing the entire operation (and attempting to fund the eye-watering salary bill) as group CEO.
Campaign Fantasy Agency - view full results

So now we have selected the personnel, what the hell are we going to call this agency? Leave your suggestions below: