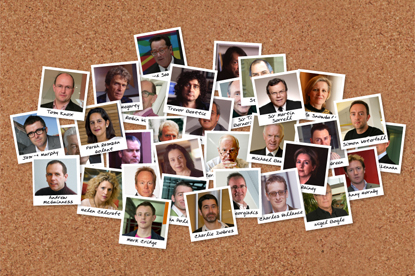 If you haven't already actually done it, it's pretty much guaranteed that you've thought about it. And even if you have launched your own agency, you've probably spent many idle moments wondering who else you might have chosen as your core team. All the best ad people have their fantasy agencies tucked away in a drawer somewhere.

Here's Campaign's own fantasy agency, with absolutely no respect to the practicalities. Really, can you imagine the salary bill needed to pay for this lot, let alone the headaches of ego-management? Sadly, we've had to leave too many greats off. But that's business.

Vote here for your fantasy ad agency


Chairman


Why wouldn't you choose Maurice Saatchi? After all, he has launched not one, but two of the UK's biggest agencies of the past 30 years, and the name, the most famous in modern advertising, opens so many doors. However, the name Peter Mead doesn't come without benefits, and with the Abbott Mead Vickers founder, you get an almost unchallenged business nous and experience within the industry - still very much part of the game. But, if it's creative energy and zeal you're looking for, along with industry and client respect, you may want to look to Robin Wight. Still as energetic, charismatic and flamboyant as when he launched WCRS 30 years ago.

Vote


Non-executive director


No agency can work these days without a digital element, and who better than Sir Tim Berners-Lee - surely no-one understands the internet like the man who invented it. Although, the Apple co-founder Steve Jobs must be pushing him a close second. So important to his company that news of his recent illness caused its share price to plummet, the man with the Midas touch for design would be an incomparable asset to any creative business. However, for sheer creative dynamism and a truly eccentric view of life and business, you may feel that Peter Saville can bring the magic the agency needs. And if not, you can listen to stories about Factory Records.

Vote


Non-executive director


Jeremy Bullmore is about as close as you get to an advertising legend. Everyone's favourite agony uncle, he also has an entire lifetime of advertising experience to offer the young bucks. Sir Frank Lowe also has experience and advice to offer - it just might be slightly different from other people's. Erratic, eccentric and energetic, all watchwords of the man whose name still stands alone on a global network and who, after all this, still had the drive to do it all again. John Bartle probably goes without saying - an immense character, a true icon of advertising as a co-founder of Bartle Bogle Hegarty. But look what he also did for Dare and i-level if you need any reason why he should be in a fantasy start-up.

Vote

ECD


For the choice of executive creative director, you have the populist, the renegade and the knight. Trevor Beattie, one of the few household names from adland, has an almost magical connection with the general public and is a truly inspirational writer. Sir John Hegarty will, put simply, give the agency an immediate legendary status. His stature, gravitas and respect is second-to-none. Robert Saville, while just as creative as Beattie and Hegarty, will bring a wonderfully unconventional slant to your business, as well as being the ultimate talent magnet.

Vote


Group CEO


Quite possibly the most admired, feared and powerful man in advertising, Sir Martin Sorrell would add a truly global reputation and a sense of invincibility. However, if you're looking for ultra-smooth classic account man moves (all wrapped up in a very expensive suit and Ferrari), then you need Michael Baulk, the silent B in AMV. Nigel Bogle, or Nige to his friends, is still the lifeblood of BBH and doesn't ever look like quitting. This knowledge, experience and zeal would be invaluable at the head of a start-up.
CEO


With Johnny Hornby as your chief executive, not only are you guaranteed at least five clients as soon as your doors open, but you get the foremost adman of his year. And he knows how to party. Moray MacLennan's smart suits and ultra-smooth style are only a part of his arsenal and are used cleverly to offset and almost hide a diamond-sharp business brain and Scottish austerity that gets results - probably through fear, but very effectively. However, if experience, respect and talent are required, Cilla Snowball was moulded by the best in the business and brings them all together into a formidable operator.

Vote


Managing director


It might have been while since any of these three filled the managing director role, but who wouldn't want them as the heartbeat of the agency? Farah Ramzan Golant is a fearsome manager with intelligence and determination in equal measure that she puts into everything she does. Much like Helen Calcraft, the acorn doesn't fall far from the tree, really, does it? It's no coincidence that there are so many AMVers past and present in this list. Confident and capable, she brings power and assuredness to any agency. Robert Senior is a different proposition (in more ways than one). Experienced, determined and positively dripping ambition.

Vote


Executive planning director
Despite having been on the periphery of the ad business for a few years, MT Rainey could still be the jewel in any start-up crown. Laurence Green is one of the most respected planners in the business (even for just putting up with Robert Senior for years) and has easily handled his chairmanship at Fallon, showing that he would be an invaluable business-mind as well as a planner. Charles Vallance, however, is a completely different offering - a Yorkshire native with a huge IQ and an almost instinctive feel for planning, he inspires and commands respect in equal measure. Just don't play him at Trivial Pursuit or Scrabble.
Media head


Sue Unerman is one of the architects of the "modern" media agency and her strategic talents have helped MediaCom become the biggest in the UK. Her approach to media planning is passionate and she never resorts to cliché. Characteristics shared by Phil Georgiadis. His tenacity and attention to detail are well known, and, despite years in the industry, he still displays an admirable enthusiasm for media. Ivan Pollard is the idiosyncratic genius of the media team - the player to bring others into the game through his creative talent. His unconventional approach does detract from his focus and capacity for hard work.
Digital head


Anyone who can sell their agency for millions of pounds at the age of 12, or whatever age Mark Cridge was, would be a huge asset. If you prefer your digital talent a little more off-the-wall than the serious Scotsman, then Simon Waterfall would be the ideal choice. Very talented and more than a little strange. Charlie Dobres, the i-level founder, is every bit as talented. An expert on his subject, he's also famous for his ability to spot a business opportunity.
Account director


Andrew McGuinness could easily have wilted in the enormous shadow of Trevor Beattie but his grit, determination and business savvy have seen him move towards the sun in the past three years. He's likeable, trustworthy and capable, just like Tom Knox - who has skilfully built a great agency around the premise of good, solid account management. Since rising through the ranks at Rainey Kelly Campbell Roalfe/Y&R, James Murphy has rarely put a foot wrong. It's a testament to his account-handling skill that almost every RKCR client was initially rumoured to be considering his new agency, Adam & Eve.

Vote