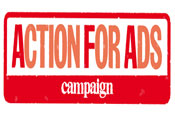 With the backing of the Advertising Association, the IPA and ISBA, the magazine has launched an online petition calling on the Government to recognise the importance of the industry to the UK economy and to resist further restrictions to responsible advertising. The petition will be presented to Downing Street in the autumn. Click here to sign the petition .
The initiative, Action For Ads, comes amid mounting alarm at the success of pressure groups in calling for more curbs on commercial freedom of speech.
Claire Beale, Campaign's editor, said: "For too long, the industry has been almost apologetic. It's time to unite behind a confident and positive promotion of advertising."
- Why It's Time To Fight For Advertising, page 20.