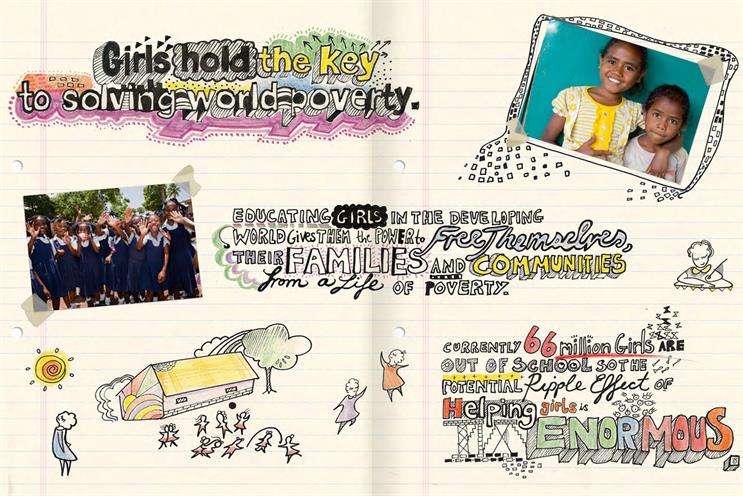 The TV ad turned out well. You can't turn on CNN without seeing it. Which I often do, when I take a break from Kourtney And Kim Take Miami. The ad is for Plan, the charity dedicated to helping some of the world's poorest girls build better lives. Imogen Wilson, Plan's head of communications, had given us a killer fact that, with education, girls hold the key to defeating world poverty. The ad pretty much wrote itself: African schoolgirls raining down from the sky, impacting on the poverty-stricken landscape below, transforming it into a positive, thriving society. Educated girls as a weapon against poverty. The client is happy. Our executive creative director, Justin Tindall, is happy. My partner, Steve, and I are relieved.
Now, I love a TV ad. Especially one that tries to do good rather than flog squirty cheese or a really soft bog roll. But TV ads are just one part of the communications jigsaw.
Plan's message seems far too profound to depend upon just one channel. It needs to spread its word much wider than that. It needs to reach influential women and inspire them to proselytise about what the charity does, the importance of education and the impact it has on all our lives.
It needs a truly big idea that could inspire people to start a conversation about making a difference. No pressure, then.
The idea
So, what if the proof were in the pudding? What if influential women who had benefitted from education shared their stories? And what if we asked these spokeswomen to host an event rather than star in an ad? A testimonial with an audience. A series of inspirational talks hosted by influential women, about how education transformed their lives, helping to raise money through ticket sales.
Not just an ad, but something much more than that.
The sell
Justin's office. The big sell. He likes it. It feels big, exciting and unlike anything we've ever done. We chew the fat about whether we can make this happen. I think we can. But, then again, I think Haribo Sour Cherries count as one of your five-a-day.
We head to Plan HQ. I'm nervous. That very particular kind of nervous you get when you're really excited about the work and you're desperate for the client not to say "nah". I hide the desperation in my voice as we talk the clients through the idea, all the while regretting my choice of T-shirt for this meeting. It is a white T-shirt, with "MATH SUCKS" writ large upon it.
It feels a little inappropriate. They politely ignore it and get excited about the idea instead.
We think about who'd be appropriate to host these talks. "Kate Winslet?" Yep. "Michelle Obama?" She'd be good. "Vivienne Westwood?" Brilliant. "Kate Adie?" Definitely. "Katie Price?" Silence.


The logistics
Things move fast now. We trawl eBay for vintage school satchels for the mail packs we're sending to celebrities. We handwrite our message in exercise books that transport me back to my own school days, but without the painstakingly crafted "I Love Axl Rose" flourishes. We commission artists to use transcripts of each Plan talk to create typographic portraits of our guest speakers, made entirely out of their words. We'll exhibit them all at the end of the first year. And we learn that a watched phone never rings.
The first Plan Talk
It's International Day of the Girl. The London Eye is packed with women speed-mentoring young girls and the Southbank Centre is all set for the first Plan Talk.
It's a nervy feeling, like when you throw a party and worry that no-one will turn up. But they do. Sarah Brown talks. Jude Kelly, the Southbank Centre's creative director, talks. MTV's Georgia Arnold talks. And everyone in the room listens. They Tweet, post photos and tell their mates. Months and months of work finally paying off.


There will be more. One a month. More inspirational women to recruit. More venues to book. More favours to pull. And I realise, it's not just the girls in Africa who are getting an education.
Laurie Smith is a copywriter at Leo Burnett