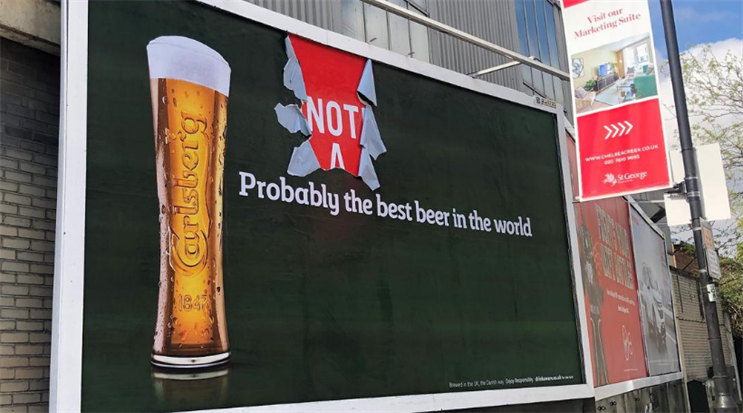 WINNER
Initiative for Carlsberg
In the face of declining sales and mounting criticism over Carlsberg's quality and taste credentials, some brave action was required. The brand took a leap of faith and completely rebrewed its flagship beer, emerging with New Danish Pilsner. But to drive a rethink and reappraisal of Carlsberg, it needed to find a way to tell the nation its beer had changed for the better. To achieve this, it "threw the marketing rulebook out the window" and gave its most vocal critics a national platform.

Through a partnership with Twitter, it promoted brutally honest tweets about Carlsberg and then had Carlsberg staff read them in "Mean Tweet" social videos. Tweets like; "Carlsberg tastes like the bathwater my nan died in" were consequently seen by tens of thousands of people. There were calls for Carlsberg's social media manager to be sacked. Carlsberg staff updated their LinkedIn to "looking for new opportunities". The brand even sabotaged its own outdoor posters to get noticed for all the wrong reasons.
Then, once everyone was talking about Carlsberg, it launched an integrated, national media campaign to reveal its New Danish Pilsner.
Across TV, Outdoor, Print and Digital it subverted decades of consistent brand building, by admitting its old beer probably wasn't the best, so it had changed. But the proof was in the Pilsner, and the brand replied to over 6000 twitter conversations with a voucher for a free pint, set up trial points in commuter areas and served people free pint vouchers to their phones by geo-targeting them while they travelled to the pub. Within months, Carlsberg sales and Carlsberg brand love were back in growth.

The judges called it a "ballsy strategy that won reappraisal from an audience that had long since abandoned the brand for craft beers."
HIGHLY COMMENDED
Carat UK for Guinness
Pipped to the post by rival beer brand Heineken as the sponsor of the 2019 Rugby World Cup, Guinness set about stealing the spotlight by becoming the Official Sponsor of Fan Belief.?It created the Belief-o-Meter; an API that analysed the nation's 'State of Belief' via live social feeds and published them dynamically into digital OOH.
Not only did Guinness sell 2.6m more pints, it came out as the number one brand associated with rugby. The judges applauded the campaign for being bold, relevant, creative and delivering great results by "taking a challenge and turning it on its head".
FINALISTS
Craft Media for Brew Dog
OMD UK for Bacardi