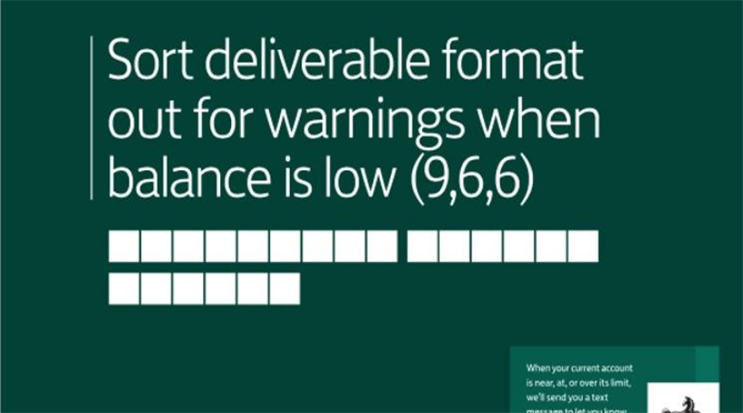 WINNER
MediaCom for Lloyds Banking Group
The Lloyds Bank app is designed to help its customers feel in control of their banking every day, but older customers were not using the app as much as other groups. So, the challenge was to get this group of intellectual customers to download and use the app. The brand partnered with the Daily Telegraph to create a series of ads, which revealed some of the app's features in the form of answers to cryptic crossword puzzles. Over half of readers took action after seeing the ads: 56% visited the Lloyds Bank website and 51% learnt more about the features. Crucially, 44% used or downloaded the app as a result.

While many advertisers talk to this segment about technology as if they are children. But our hypothesis was that appealing to their intellectual abilities would generate the confidence they needed to trial the app. This audience is ten times more likely to do cryptic crosswords than the rest of the UK, and their average dwell time on puzzle pages is higher than any other page in the paper, presenting the perfect context to talk about the app's features.

In this partnership approach, the Daily Telegraph not only provided the contextual environment, their editorial team also wrote the clues for the advertising space. We created ten different ads, each one communicating a different app feature, that were displayed as clues in half-page formats. 65% of the target audience considered the creative as "informative, grabbing their attention and clever".
HIGHLY COMMENDED
OMD for Barclaycard
In 2019 Barclaycard set out on a mission to turn credit cards from toxic to trusted, by helping people avoid credit-card misuse when travelling abroad. Barclays partnered easyJet, which transports 14 million passengers to and from Europe each year, and is also an OMD UK client. The media agency brokered a partnership deal that saw Barclaycard launch a Travel Smart Safety Card with easyJet. Designed to pay homage to a traditional safety card, these were placed in the seat pocket of every easyJet plane based in the UK from July to September. The card contained four tips on how best to use a credit card abroad – from always paying in local currency, to avoiding using it to withdraw cash. On these flights the seat-back banners were also used, staring travellers in the face at eye-level, to alert them to what was inside the seat pocket. Two-thirds of respondents in the easyJet satisfaction survey agreed that the information in the card was helpful, and with the majority agreeing that it made them trust Barclaycard more. The activity also helped prompt a 6% increase in consideration, in turn helping drive a forecasted £1m in incremental revenue.
FINALISTS
MediaCom for Lloyds Banking Group (M-Word)
News UK for AXA
Starcom ad The Guardian for Visa
Zenith for Natwest