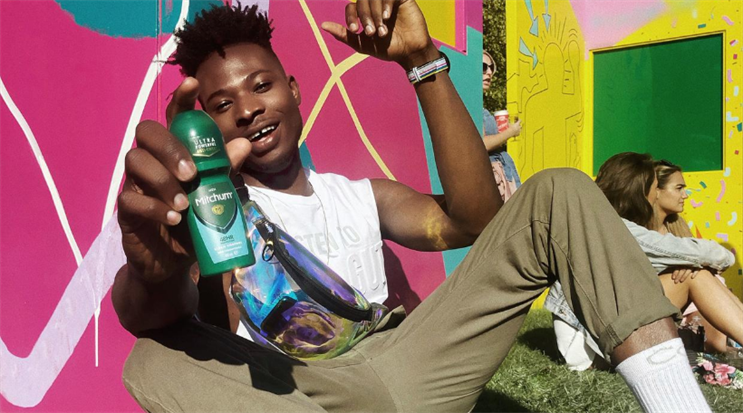 WINNER
Initiative for Mitchum
In 2018, Mitchum's successful shelf space strategy had hit a ceiling so to maintain growth it needed to recruit the armpits of a new and typically hard to reach audience 25-34 year olds.So it tapped into Britain's most loved, and most sweaty culture, music festivals. Through an authentic sponsorship of 10 of the biggest festivals over summer, it showed that deodorant could be a high interest product and grew sales by 11%.

The strategy had three parts, firstly to get the product into their hands, and under their arms, through sampling. Secondly, to own the hygiene conversation at festivals throughout the summer and thirdly to build trust and reach with festival enthusiasts, who were not attending.
In addition to the TV plan, Initiative partnered with Live Nation, handpicking 10 festivals in the UK and running Mitchum's biggest ever sampling exercise, distributing 300,000 samples over the summer. Through GPM360, it festival sound rig and spectator screens to air ads between acts.

It supplemented its festival campaign with influencer activity, tapping into the target audience's shifting media consumption habits with voices they trusted: 12 influencers were recruited and sent to the festivals, capturing more than 200 pieces of branded content to push organically across their social channels. As summer progressed, Initiative used this content in its festival screen activity to further increase engagement on site.

The campaign achieved another year of double-digit sales growth (11% YTD), with no distribution gains, while awareness among 25-34 year olds tripled (from 3%-9%).
HIGHLY COMMENDED
PGOne for P&G Herbal Essences
Starcom, Herbal Essences and Jack Media collaborated to create an experiential for butterflies. A genuinely living and breathing billboard that celebrated the brand's partnership with Kew Gardens and raised awareness of the need to protect the UK's tiny wildlife, distributing 36,000 packs of wildflower seeds and increasing bottle sales by almost 2%. The judges said: "A lovely execution with long-lasting effects, thanks to the seeds given out. Seems to have helped sales, which is great. I also know that competitors noticed this execution and are jealous."
FINALISTS
Havas Media and Talon for BBC
Hearst UK and Mindshare for Unilever/Comfort
Ogilvy for Google
The Telegraph for SAP and PHD