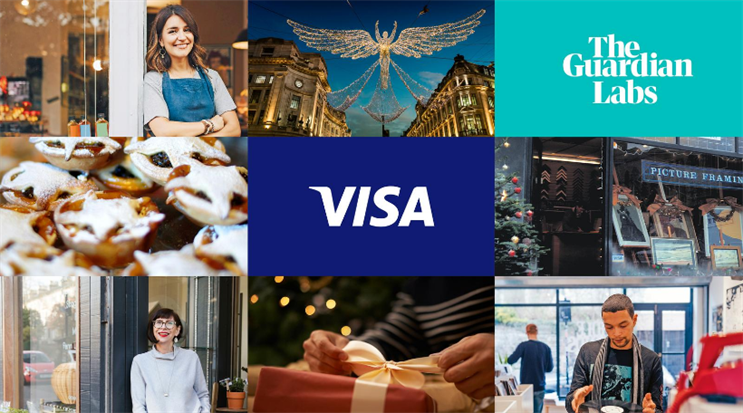 WINNER
Starcom for Visa and The Guardian
In 2019, Visa wanted to make an even bigger difference with its #whereyoushopmatters campaign, and proved that 4m Guardian readers believe that shopping locally is important.

So, on Thursday 21st of November, Starcom and Visa turned the Guardian into a local media platform. Visa bought every ad slot on the website, the app, the newspaper, videos and podcasts and handed them over to local business – giving local businesses a seasonal boost they could only have dreamt of. In the newspaper, Visa used the first ad in the paper to explain the idea and then gave over every single subsequent slot to 26 regionally targeted local businesses.

The following Saturday morning, one of the busiest shopping days before Christmas, Starcom created four regional issues of Weekend Magazine, wrapping each one with a feature on a brilliant local business. On the website, app and video content, Visa owned 100% of the inventory with ads geotargeted to our readers' locations. In audio, Starcom worked with a Guardian Ventures-backed business, Million Ads, to dynamically insert 73 variations of locally specific adverts across the entire podcast inventory - more than a million times. By producing nearly 200 iterations of copy in 20 days, more than 6m of our readers were presented with a local option for their Christmas shopping on Day One – from cards in Cardiff to needlework in Norfolk.

The takeover had 37.3m impressions. Most importantly, against a backdrop where every 60 seconds a high street retailer closes its doors forever, there was sales growth of 3% on the high street, driven by 56% of Guardian readers who were inspired by the campaign to buy something at their local independent shop using their Visa card.
FINALISTS
Acast for John Lewis & Partners
Goodstuff for Yorkshire Tea
Jump (part of Havas Media Group) for O2
NTS for Netflix
Tesco
Yonder Media for Pilgrims Choice