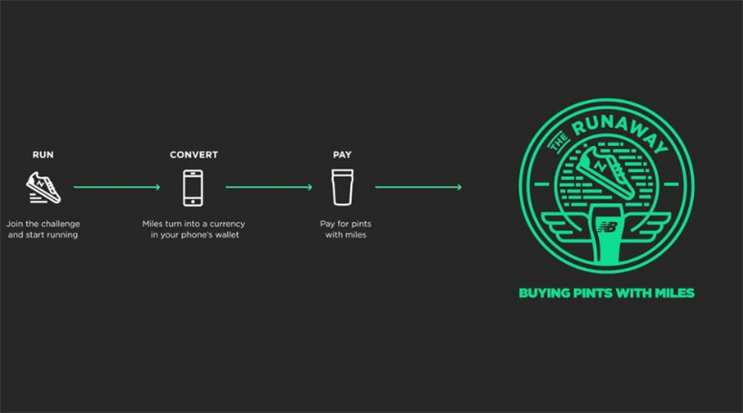 WINNER
MediaCom for New Balance
As the official apparel and footwear sponsor of the 2019 London Marathon, the goal for New Balance was to be the sportswear of choice for runners of all levels and motives, so it began 'Everybody's Race'. The idea was to reward runners' commitment by turning runs into actual rewards. Working with trusted partners; Runners World, Spotify and Strava, MediaCom identified key moments for engagement when New Balance could inspire and motivate. 'Everybody's Race' featured a structured series of original challenges, content, and a points-for-pints system where runners could drop into a pub for well-deserved post-run pints.

Knowing that 80% of marathon runners using fitness apps to keep them on track, and 75% listen to music for motivation, MediaCom's insight was clear: few marathon runners undergo preparation without the aid of apps. Indeed, in 2018, over 40% of London Marathon participants had used app and social fitness network, Strava. Therefore in 2019 the brand partnered with Strava to create tailored New Balance challenges, aligning with key milestones in their training journeys. For expert advice, runners could consult Runner's World for bespoke training plans for all abilities. For time guidance, the brand worked with Spotify to curate pacing playlists for different speeds, from 6-minute to 10-minute miles. All content was promoted across social and OOH.

Running sales share for New Balance increased by 11%, with 18% uplift in New Balance trainers on the feet of London Marathon finishers. Beyond this, the brand forged a connection with the running community; with 55% increase YOY in football to the flagship store and shoe sales up 40% YOY. The Strava challenges had more than 26,000 participants, who together ran a total of 566k miles.
FINALISTS
MediaCom for Reebok
OMD UK for Levi's
Wavemaker for Henkel
Zenith for Tena
Zentih for H&M Menswear