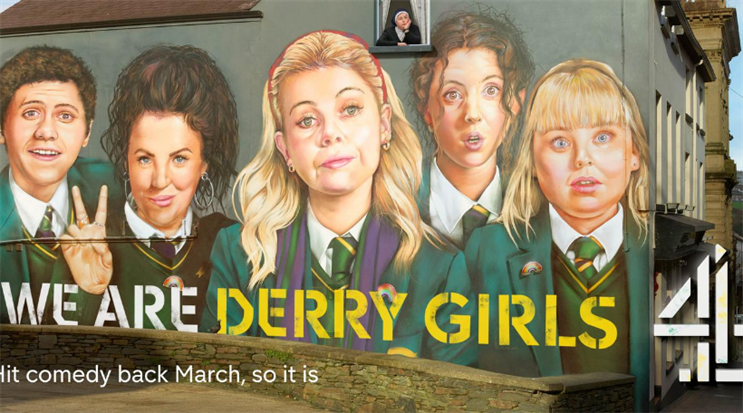 WINNER
OMD UK for Channel 4 / Derry Girls
Channel 4's coming-of-age comedy, Derry Girls, instantly became the most watched show ever in its Northern Irish home when the first series launched. Despite critical acclaim, Derry Girls proved a tougher sell in the rest of the UK. The challenge for OMD was to make Derry Girls season 2 a national hit by championing its authenticity as well as its faithful 90s-ness – its music and cultural references – which could make the setting more relatable to an audience outside Northern Ireland.

Channel 4 Creative painted a giant Derry Girls mural on a Derry pub wall and sent the stars to the unveiling. Social sharing was huge, and the mural made national news. The mural became the key artwork across OOH, print and digital throughout the UK, celebrating the distinctive Northern Irishness of the show. Pictures of the mural were shared thousands of times on social and made national news across the UK and Ireland. The campaign delivered 1M organic engagements, and #DerryGirls trended number one in Ireland, number three in the UK and number five worldwide.

To make Derry Girls feel more accessible, OMD partnered with Spotify to design 90s mix tapes (as Spotify playlists). With 90s playlists the most subscribed genre on the platform, OMD built individual playlists by character and tapped into everyday nostalgia.

Combined organic and paid-for social content achieved over 27 million views. The Spotify playlists specifically gained over 10,000 followers and 460,000 streamed minutes of 90s listening. Derry Girls became the most-watched TV show ever in Northern Ireland, but critically the UK (minus NI) was up 75% on S1. Derry Girls S2 attracted a series average of 3.2 million viewers, up 400,000 on S1, making it Channel 4's biggest comedy since 2007.
FINALISTS
Initiative for LEGO
Manning Gottlieb OMD for Sony Pictures
MediaCom for NOW TV
the7stars for Parlophone / Coldplay
Uncommon Creative Studio and Goodstuff for ITV