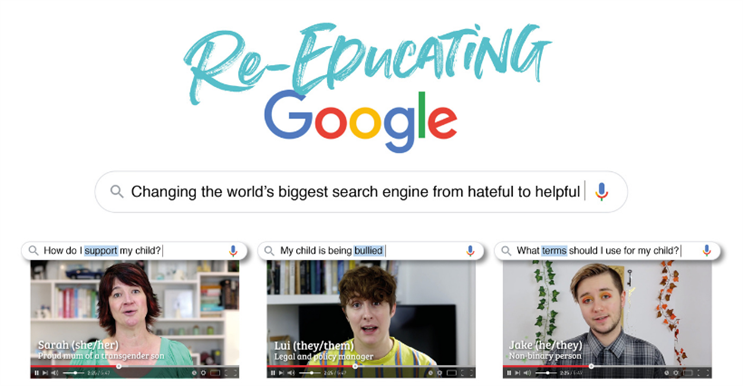 Winner
Re-educating Google
Rapp UK with Mermaids
Transgender children are twice as likely to contemplate suicide if their parents don't accept them when they come out. But most parents aren't equipped to handle this life-changing moment and turn to Google for advice.
Many of the search results on Google were misleading and transphobic. The campaign set out to ensure that parents saw honest information when they searched for help, rather than hateful misinformation. This meant directing them to Mermaids UK, a charity and advocacy organisation that supports gender variant and transgender youth.
The unexpected search terms used by parents early in their journeys to find answers were used to tag honest, heartfelt, specially-created video content. So when they went to Google in desperate need of advice, they found this content before they saw inaccurate, transphobic
articles and videos. The aim was to intercept parents before their journeys led to hateful,
misleading results.
The short films – informed by Mermaids UK's data and insights – tackled the questions parents craved answers to. They offered advice from real experts, including a headteacher
of a school with numerous trans pupils answering, 'What should my transgender child's school be doing to help?' And a legal expert responding to: 'What should I do if my
transgender child is bullied?'
The more parents found advice, the more search journeys were analysed and the
better the insights became. Content received thousands of views and Mermaids ranked
higher than the NHS for the search phrase: 'How do I support my transgender child?'

Highly Commended
Lighting the Dark Hours
Goodstuff with Samaritans
Research has shown that suicide is the leading cause of death among men under 50, and often results from loneliness. With many feeling isolated during lockdown, it was crucial to identify the most at-risk men in their moments of loneliness and encourage them to seek help. A correlation between sleep disturbances and an increase in suicides meant the majority of the media budget was focused on the twilight hours of 6pm to 6am, aligning with sport, gaming, and entertainment, environments for 'night-time numbing'. The campaign was activated across TV, video, social and audio, resulting in increased calls and emails.
Finalists
NHSBT BAME Recruitment
Manning Gottlieb OMD with HM Government - NHS Blood and Transplant
Barclaycard Econometrics
OMD UK with Barclaycard
A new face propels Iceland to the top of the table
the7stars with Iceland
Bodyform: #Wombstories Break The Silence
Zenith with Bodyform