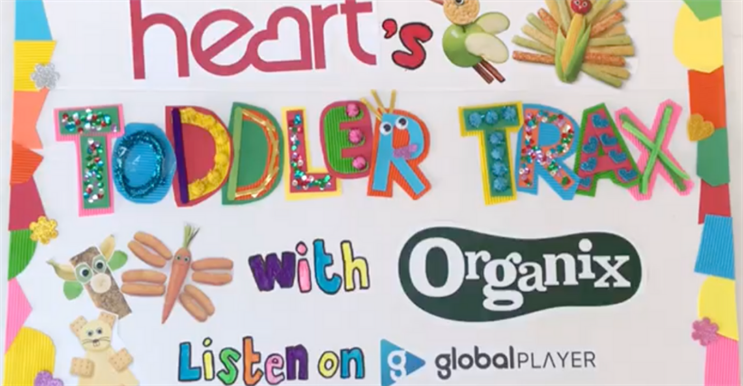 Winner
Heart Toddler Trax
VCCP and The Fourth Angel Organix and Global
A child's tastes are literally different to those of a grown-up. Organix uses the same ingredients in its food as adults' food but adapts it to the tastes of toddlers. The thinking behind 'Heart Toddler Trax with Organix' was whether this approach could be applied to music. The aim was to bring to life the Organix brand positioning of 'nobody understands little people's tastes like Organix', in a fun, surprising, playful and memorable way.
VCCP Media identified radio as one of the best mediums to help Organix reach the target audience of house-bound toddlers and their families. This idea led to the creation of Heart Toddler Trax, a pop-up station from Global's radio station Heart and Organix. It featured the same Heart playlist of much-loved songs from the likes of Ed Sheeran, Pink, Adele, Justin Timberlake, Lady Gaga, Bruno Mars and more, but with a twist. Tracks - which were chosen following research identifying the artists most likely to resonate with parents, were musically 'reimagined' as lullabies, thereby suiting the tastes of younger audiences and putting Organix's thinking to the test - that it really does understand young minds and their tastes.
Heart Toddler Trax featured songs such as Roar, The Edge of Glory, Just Dance and Poker Face on its playlist, with not only parents, celebrities and toddlers all tuning in. The campaign helped increase brand awareness and consideration of Organix.

Highly Commended
Toast & Jam
Goodstuff with Yorkshire Tea
Yorkshire Tea's variant, Toast & Jam, drew excitement, delight and dissent in equal measure, Goodstuff recognised that these scathing, but funny, attacks on the new brew could keep detractors onside as fans, even if they wouldn't buy the brew. Cynics and critics were given the right to reply in reactive, in-the-moment media opportunities, outside of channels traditionally used such as TV, in favour of those which could be quickly turned on to display the dissenters. And out of home campaign went live in under 48 hours, hitting Saturday retail footfall, supported by Spotify takeovers and paid social on Twitter, Facebook and Instagram.
Highly Commended

Frontline Spotify for Dogs
OMD UK with Boehringer Ingelheim
The pandemic lockdown presented an unexpected opportunity for Frontline flea treatment, with a huge number of people getting dogs as a way of easing lockdown loneliness. Research highlighted that this new breed of pet adopters were typically younger (aged between 25 and 35 years), than the usual 45+ Frontline target. As inexperienced pet owners with little vet access, flea treatment could be easily overlooked. Frontline was turned into a much-needed source of calm for newly adopted dogs, with a specially commissioned Pawfect Playlist in partnership with Spotify.
Finalists

Clap for our Carers
Channel 4 with SASSY Productions, 40 Brands, and 20 media agencies
The Valentine's Day Turn-Off
Goodstuff with Habito
Reassuring mums-to-be with the voice of empathy and expertise
Mindshare UK with Tommy's