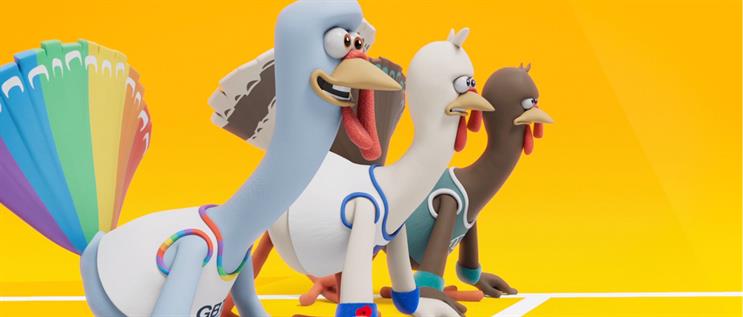 Winner
Paypal 'Turkey Dash' on Channel 4
PayPal, Channel 4 and Havas Media
---
The "Turkey Dash" concept was developed – a race with eight animated turkeys, each representing a charity and powered by donations; the more cash donated, the faster the dash. Using the premise that charity begins at home, Christmas TV was identified as a new 'giving moment', with a two-minute-long 'live' peak broadcast ad break airing on Channel 4 on Giving Tuesday, the day after Cyber Monday. Turkeys were 'let loose' across TV, social and digital channels. Charities involved included Blue Cross, RNLI, CLIC Sargent, LGBT Foundation, Sue Ryder, Royal British Legion, Save the Children and Mental Health Foundation.
All donations 'trained' turkeys, with progress tracked via 'bootcamp' spots across Channel 4 and social media. The winner was crowned at an event fronted by Channel 4 F1 presenter Steve Jones, with Steve Cram doing the voiceover. Another event, on Facebook Live, brought together representatives from all eight charities to join in the celebrations.
"Turkey Dash" connected to 76% of 18- to 34-year-olds an average seven times and 1.3 million people tuned in for the race. PayPal charity awareness increased from 8% to 13%, with 'Donate'-button activity rising from 26% to 33%.
Media director: Tom Slater, partnerships manager, Channel 4
Hayley Pyper, partnerships account director, Havas Media
Sophie Moore, business director, Havas Media
Senior planner/strategist: Stuart Butler, chief strategy officer, Havas Media
Creative agency: Crispin Porter & Bogusky
Media/brand manager: Charlotte Turland, senior manager, value proposition marketing, PayPal
SHORTLIST

Guardian News & Media

Client company: NatWest
Media agency: Zenith
Media director:
Richard Vine, commercial features director, The Guardian Labs
Senior planner/strategist:
Adam Foley, director of sales and strategy, The Guardian Labs
James Fleetham, key client director, Guardian News & Media
Holly Shorten, consumer account manager, The Guardian Labs
Media/brand manager:
Allan Watson, brand marketing, NatWest

Guardian News & Media

Client company: Lloyds Bank
Media agency: Greenhouse GroupM
Media director:
Richard Vine, commercial features director, The Guardian Labs
Senior planner/strategist:
Adam Foley, director of sales and strategy, The Guardian Labs
Clive Jones, client development director, Guardian News & Media
Shaun Salmon, account manager, The Guardian Labs

Standard Life Investments - The Telegraph, Ptarmigan Media & Synergy

Telegraph Media Group

Client company: Standard Life Aberdeen
Brand: Standard Life Investments
Media agency: Ptarmigan Media
Media director: Owen Lewis
Senior planner/strategist: Owen Lewis
Creative agency: Realise, Synergy & WCRS
Media/brand manager: Zoe Stuart

PayPal Turkey Dash on Channel 4

Channel 4

Client company: PayPal
Media agency: Havas Media
Media director:
Tom Slater, partnerships manager, Channel 4
Hayley Pyper, partnerships account director, Havas Media
Sophie Moore, business director, Havas Media
Senior planner/strategist: Stuart Butler, chief strategy officer, Havas Media
Creative agency: Crispin Porter & Bogusky
Media/brand manager: Charlotte Turland, senior manager, value proposition marketing, PayPal

Nationwide Mother's Day

Wavemaker

Client company: Nationwide