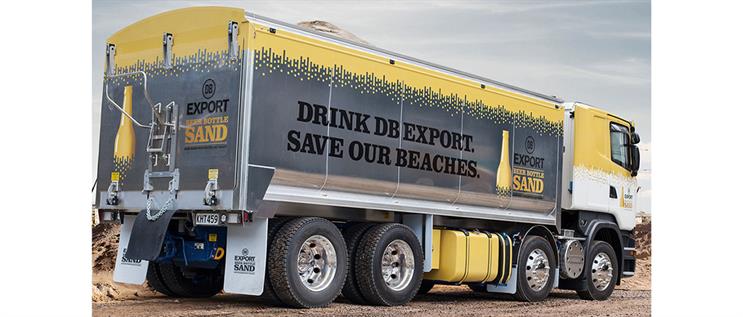 Winner
DB Export Beer Bottle Sand
DB Breweries and PHD
---
With beer consumption in New Zealand at its lowest level since World War II, DB Breweries needed to create a compelling campaign to increase sales. Using the premise that the world is running out of sand, which is the second-most-exploited natural resource on Earth, DB Breweries encouraged beer drinkers to do their bit to save the planet.
It created DB Export Beer Bottle Sand – a sand substitute made from empty bottles crushed by machines. New Zealanders were asked to "empty a bottle of DB Export" so that these bottles could be turned into usable sand.
The campaign debuted as a film across local media platforms; the brand also partnered Mitre, New Zealand's biggest DIY retailer, to make concrete with beer-bottle sand, which was sold at 45 outlets. Product placement on renovation show The Block also showed how sand could be used in construction, while activity was further amplified across TV, digital video, billboards and social media.
Beer-bottle sand has been used across the construction industry, while the launch campaign reached 97% of males in New Zealand. A total of 13 million bottles were emptied, delivering 9.7% year-on-year growth, helping DB Export become the only mainstream beer to grow in both value and volume terms.
Media director: Amanda Palenski
Senior planner/strategist: Simon Bird
Creative agency: Colenso BBDO, New Zealand
SHORTLIST

MullenLowe Mediahub

Client company: Western Union
Brand: Western Union
Media agency: MullenLowe Mediahub
Media director: Alex Tawfik,
Global Account director, MullenLowe Mediahub
Senior planner/strategist:
Nnamdi David, strategy director,
MullenLowe Mediahub
Creative agency: mcgarrybowen
Media/brand manager:
Claudia Grove, group account
director, VICE

Carat UK

Client Company: Diageo
Brand: Cîroc

The Lenz

MediaCom

Making Sex Education
a Must-Take Subject

PHD

Client company: Bayer
Brand: Yasmin
Media agency: PHD
Media director: Tony Tang and Cindy Xu
Senior planner/strategist: Eddie Weng


PHD

Client company: The Canadian Safe School Network
Brand: The Canadian Safe School Network
Media agency: PHD
Media director: Aleiza Alerta
Senior planner/strategist: Nancy Kye
Creative agency: BIMM