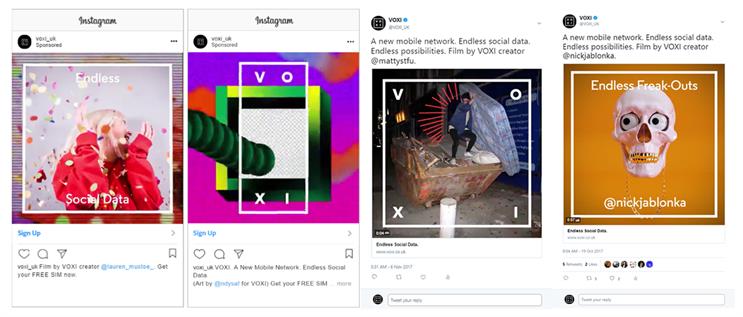 Winner
Vodafone Voxi
Vodafone and Wavemaker
---
Appealing to the under-25s market was proving a struggle for Vodafone. In response, it launched Voxi, the first mobile network to come with unlimited social data aimed specifically at under-25s. Its challenge was launching the brand to this audience – one that is distracted constantly by new content, spends only seconds looking at multiple screens and increasingly shuns advertising.
Vodafone decided to give free rein to this audience, working with 100 young creators including artists, musicians and designers to create the campaign content – with a brief to illustrate what "endless social data" means to them. To keep things fresh, a huge volume of content was produced, with creators providing five new pieces of content every week.
To counter distraction, providing bitesize, snackable content at frequent times was key, with all output being less than 10 seconds. Social platforms took centre stage, with Voxi the first brand to launch using Stories formats and the first to use Twitter clickable video.
By the end of the launch period, Vodafone had achieved more than double the awareness target, with consideration 8% above Vodafone for 16- to 24-year-olds, with 97% of Voxi subscribers new to the Vodafone brand.
SHORTLIST

MG OMD and Starbucks - Pumpkin Spiced Latte

Manning Gottlieb OMD

OMD UK

Client company: PepsiCo
Brand: Walkers
Media agency: OMD UK
Media director: Laura Crichton and Tobie Rhodes
Creative agency: Drum
Media/brand manager: Luke Purcel

Made to Move


MediaCom

Client Company: Lucozade Ribena Suntory
Brand: Lucozade
Media Agency: MediaCom

UM

Client company: The Coca-Cola Company, Western Union Business Unit
Brand: Fanta
Media agency: UM
Media director: Jackson Graham
Senior planner: Tom Di Sapia
Creative agency: McCann Madrid, Movement
Media/brand manager: Kate Miller, brand director, Fanta

Sofology - Bridging In-store and Online

the7stars

Client company: Sofology
Media agency: the7stars
Media director: Hamish Firmston Williams