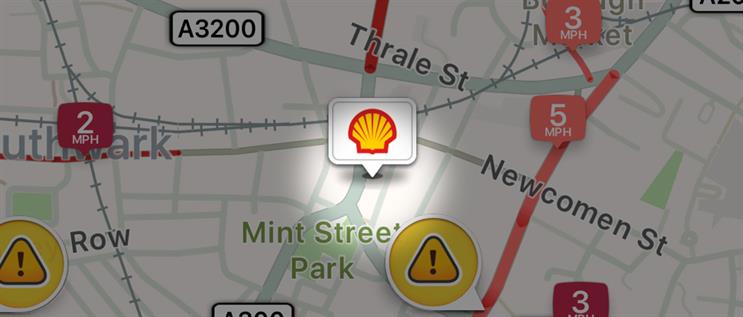 Winner
Filling Up with Britain's Number 1 Performance Fuel
Shell and MediaCom
---
Utility companies have a big challenge to overcome; when people are looking to buy fuel, they rarely, if ever, think of a specific brand, they just want convenience - somewhere not too far out of their way. Shell wanted to turn "not too far away" into a specific brand property, changing people's perceptions when looking for a petrol station from "don't care" into "must be Shell".
Using the premise that finding one's way to the nearest fuel stop was more important than other factors, Shell set out to make it as easy as possible for drivers to find its petrol stations over those from other brands. Shell partnered navigation app Waze, becoming the default petrol station for the app's users.
Branded pins showed Waze users whenever they drove near a Shell petrol station, meaning that even if drivers weren't consciously on the lookout for places to fill up, there was a chance they could be inspired to make an impulse stop. Shell also bought the 'nearby arrow', which points users to nearby Shell locations during the first few moments after opening the app, alongside 'zero-speed takeovers', which delivered a brand message for Shell's premium V-Power fuel when drivers' cars were stationary.
A total of 67,209 drivers navigated to a Shell petrol station after clicking on one of Shell's messages.
Media director: Richard Higbid
Senior planner/strategist: Niall McAvoy
SHORTLIST

Brainlabs & Bulb - The Renewable Energy Revolution

Brainlabs


Havas Media

Client company: EDF Energy
Brand: EDF Pretty Curious
Media agency: Havas Media
Media director: Alex Sherr
Senior planner/strategist: Rik Moore
Creative agency: Havas London,
20th Century Fox, Pearl & Dean
Media/brand manager: Chris Heasman,
senior manager, corporate advertising
and sponsorship, strategy and corporate affairs, EDF Energy