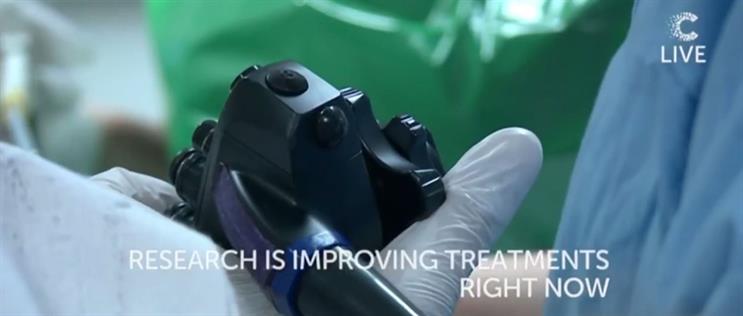 Winner
Live from Inside the Human Body
Cancer Research UK, MediaCom and Anomaly
---
Cancer Research UK sought to change people's perception that cancer can't be beaten, by showing just how much can be done to prevent the disease. Focusing on bowel cancer, which affects 41,000 people in the UK each year, the charity teamed up with Channel 4 to televise a live colonoscopy during an ad break. It didn't just tell viewers how medical research is making things better, it showed them.
The 90-second spot was shown during A New Life in the Sun, watched by more than 300,000 people every day – the group that the charity had identified as most likely to donate. Footage showed a doctor removing polyps from a patient, explaining the procedure to viewers as it happened. The ad was streamed on Facebook Live, followed by a Q&A with a cancer specialist. The ad was also available across Channel 4's social-media channels.
A total of two million people watched the live ad on Channel 4 and Facebook Live, while CRUK recorded a 30% increase in visits to fundraising pages on its website and a 30% increase in downloads of its bowel cancer information pack. There was also a 30% uplift to calls to the NHS bowel cancer helpline.
Media director: Tracy Jeffrey
Senior planner/strategist: Tom Planer/Elena Redden
SHORTLIST

MG OMD and John Lewis - Advertising as
Entertainment

Manning Gottlieb OMD

Client company: John Lewis
Brand: John Lewis
Media agency: Manning
Gottlieb OMD
Media partner: Sky
Creative agency: Adam & Eve/DDB

Channel 4

Client company: Co-op
Brand: Co-op Food
Media agency:
Hearts & Science
Media director: Sarah Lacey
Senior planner/strategist: Claire Milton
Creative agency: Drum
Media/brand manager:
Sam Walker

Kinetic

Client company: Mytaxi
Brand: Mytaxi
Media agency: the7stars
Media director: Sam Farrand
Senior planner/strategist: Dominic Murray
Creative agency:
Guns or Knives (IRL)

OMD UK

Brand: Channel 4
Media agency: OMD UK
Media director: David Josephs
Creative agency: 4Creative
Media/brand manager:
Michelle Owusu-Aninakwah

Sight Loss Break on
Channel 4, with RNIB

Channel 4

Brand: Royal National Institute
of Blind People, Specsavers,
Paco Rabanne, O2, Freeview
and Amazon
Media Agencies:
Havas Media Group, Initiative, Wavemaker (nee MEC),
Manning Gottlieb OMD
Creative agency: 4Creative
Media/brand manager:
Louise Oliver