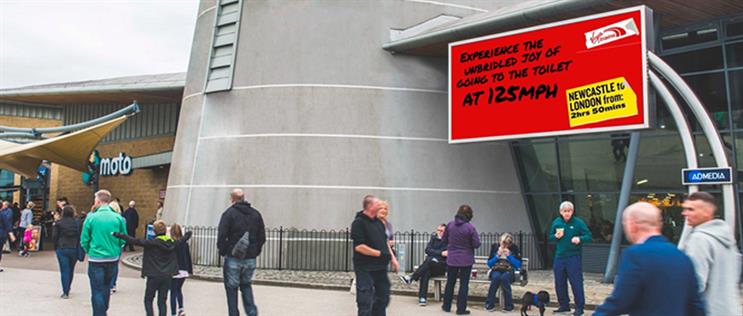 Winner
Virgin Trains Love Car Rage
Virgin Trains and Manning Gottlieb OMD
---
Travelling by car is the most popular mode of transport in the UK, a trend Virgin Trains sought to overturn. It focused on two cities that offered the best opportunity to achieve this: Leeds and Birmingham. Key to the campaign was highlighting how the two main routes into these cities – the M1 and M6 – are the most frustrating motorways in the UK.
The aim was to target drivers at the time they hated their cars and at the point where traffic on those motorways was at its most hellish. Radio and OOH were deployed in conjunction with Google's traffic data to isolate the worst days of the week and times of day when delays were most likely, identifying 'hellspots'.
Radio copy had to be dynamic and as close to real-time as possible, adapting as people drove along the motorways, so they would get a different message relevant to their location.. With radio sold by TV region, Virgin Trains 'broke up' the region based on individual radio transmitters – eight in total. It created a new transmission map and areas along the motorway, with copy changing according to day, time and traffic blackspots. This marked the first time copy for radio had been planned, bought and created in this way.
Consideration for the train increased along both routes; the M6 route rose from 73% to 82%, while the M1 went from 76% to 83%.
Media partners: Anomaly, Admedia, Global Radio, Google
SHORTLIST

MG OMD and Age UK - The Loneliness Index

Manning Gottlieb OMD

Client company/brand: Age UK
Media agency: Manning Gottlieb OMD
Creative agency: Drum

This Girl Can - Phenomenal Women

MediaCom

Client company: Sport England
Brand: This Girl Can
Media Agency: MediaCom

PHD

Client company: Unilever
Brand: Lynx
Media agency: PHD
Media directors: David Reid and Nick Larder
Creative agency: 72andSunny Amsterdam
Media/brand manager: Roisin Gray

True Match

Wavemaker

Hyundai and Vehicle Recognition Technology

Ocean Outdoor