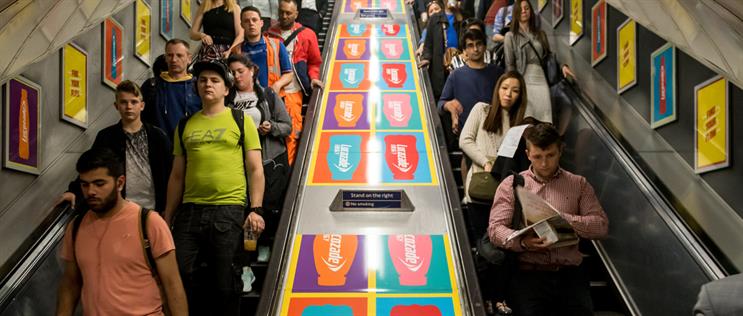 Winner
Tap to Flow
Lucozade Energy/Suntory and MediaCom
---
Lucozade had a challenge to overcome: people perceived it as drink for curing hangovers or illness rather than one that can be enjoyed everyday. The brand wanted people to see that it could help them be at their best and turned its iconic bottle into something that would help people through their day.
The campaign was timed to coincide with the daily commute – a moment identified as one that people would love to have improved. To make the commute flow better, Lucozade gave commuters a free journey, turning its bottle into a pre-paid payment device, using the same contactless technology as Oyster cards, an RFID chip, on Lucozade Energy bottles.
Lucozade worked closely with Transport for London, with the pre-paid chip on Lucozade Energy bottles allowing commuters to use the bottles to tap in and out of the Tube. To give as many people as possible the chance to "find their flow" with Lucozade, samples were given out every day over a one-week period, between 3pm and 4pm: the time when people typically experience a natural slump in energy.
There was also a media domination of Oxford Circus Underground Station; and using influencers and PR, Lucozade further encouraged people to pick up a bottle themselves. Positive sentiment, the brand's most important KPI, increased by 33%.
SHORTLIST

#BECAUSEYUM - KELLOGG'S

Carat UK

Client company: Kellogg
Brand: Kellogg
Media agency: Carat UK

Snickers: The Hungry TV Channel

MediaCom

Client company: Mars
Brand: Snickers
Media agency: MediaCom, Zenith Optimedia
Media director: Nicole Elliott
Senior planner/strategist: Guy Walding
Creative Agency: Abbott Mead Vickers BBDO

Yorkshire Tea & The Gruffalo

Goodstuff

Client Company: Taylors of Harrogate
Brand: Yorkshire Tea
Media Agency: Goodstuff

m/SIX

Client company: BIC
Brand: 4 Colours
Media agency: m/SIX
Media director: Tom Casswell
Senior planner/strategist: Daniela Mackie
Creative agency: Lucre
Media/brand manager: Bruna Goncalves